One of Italy's best-kept secrets, the Saturnia thermal hot springs are well worth the trip. Silky blue water springs on varying elevations, warmed by a neighboring volcano. A modest but forceful water stream ensures that the water on all floors remains at a steady 37 degrees Fahrenheit as it makes its way to the lowest point.
Description of Saturnia, Tuscany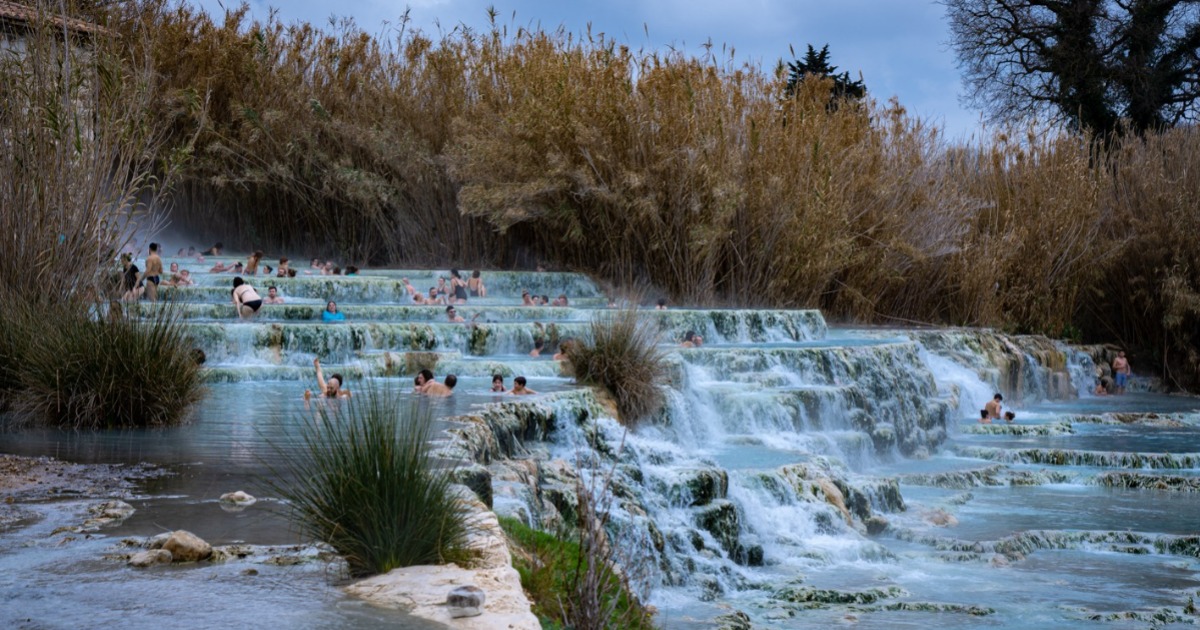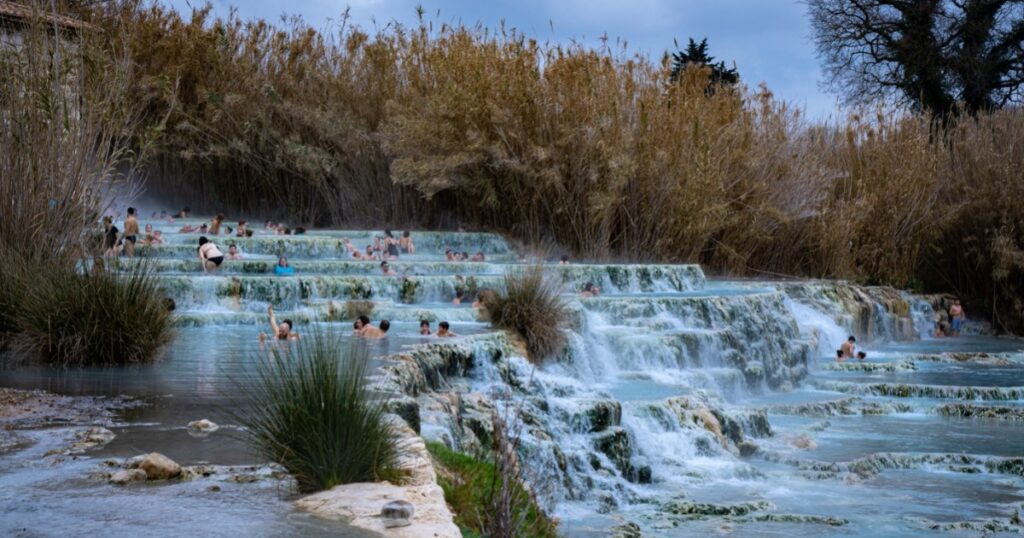 Saturnia, in the Italian region of Tuscany, is renowned for its therapeutic hot springs. A widespread misconception is that the springs are connected to a spa resort in the area. All year long, the Saturnia hot springs in Tuscany are open without charge to visitors.
Check out the Top 10 nudist beaches of Italy – Our collection.
Instructions for soaking in Tuscany's Saturnia hot springs.
Saturnia is a great place to stop on a road trip through Tuscany because of its central location between Siena (two hours away) and Rome (three hours away). Getting to the hot springs is easiest if you hire a vehicle, drive there, and stay at a bed and breakfast in the area.
Indulge in the tranquility of the baths during either sunset or morning, when there are fewer people around. The roar of the waterfall will drown out any conversation you may overhear.
Going to the spring at 7 a.m. is too late if you want some peace and quiet. A parking lot is available next to the hot spring and is open all day. As of this update, parking has been redirected to the areas marked with signage (See the exact location).
The hot spring smells, why?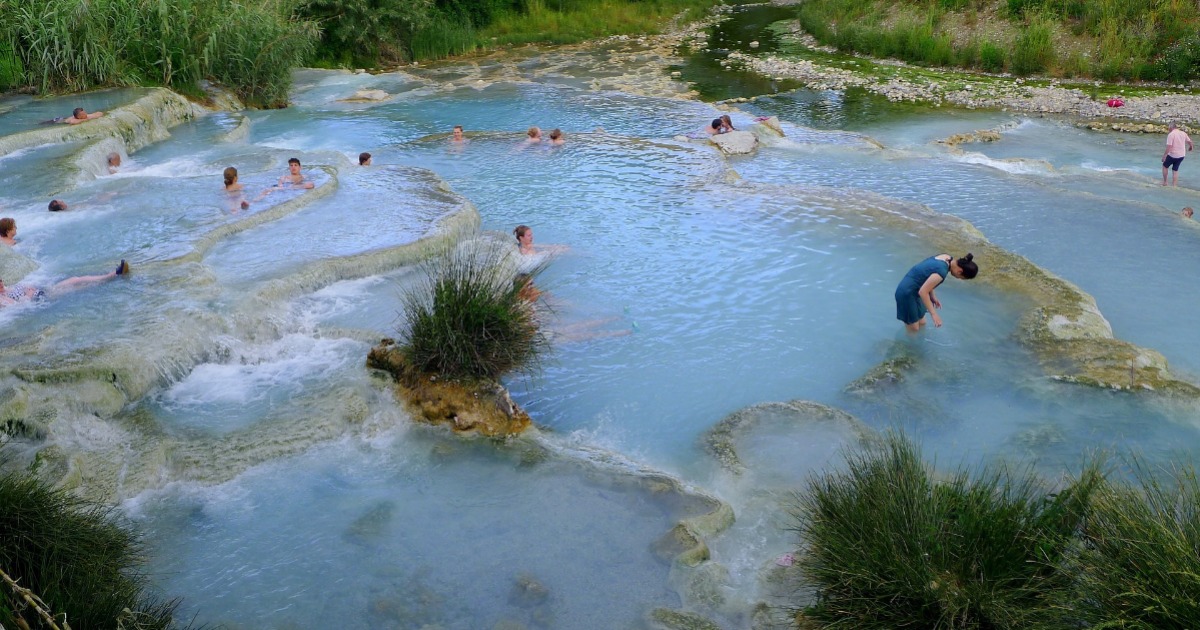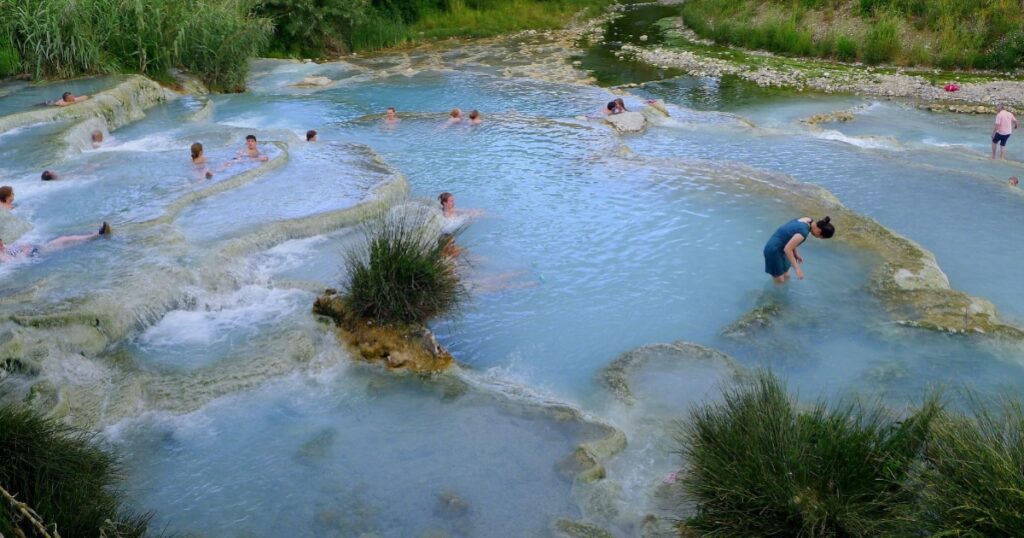 The sulfur smell is a minor downside of the Tuscany thermal hot springs due to its naturally heated process. There are worse days than there are nice days, but after a thorough bath here, you will feel as good as new.
What to pack to the Tuscan hot springs
Without taking a decent bath in the Saturnia hot springs, your tour across Italy isn't complete. To prevent dehydration, bring a towel and water with you. You may change into your hotel room or vehicle. These Tuscan hot springs don't have any facilities for changing clothes.
The floor of the spring is covered with tiny pebble-stones, therefore you may wish to wear water shoes.

Best tip to get.
That this exists and that anybody may use it for nothing is nearly unbelievable. Leave the hot springs even cleaner than when you arrived by taking your trash with you.
Check out Saturnia Thermal & Wellness from Civitavecchia Port.
Hotels in Saturnia
There are a few excellent hotels and B&Bs nearby. Five minutes of walking will get you to B&B 8380 from the thermal hot springs. The Spa and Golf Resort are the same. It is best to choose to lodge in Montemerano or Saturnia.
One of Italy's most picturesque little towns, Montemerano is a terrific place to dine. In our Tuscany Road Trip Guide, you may learn more about it.