Dome tents in the Merzouga desert are a style of lodging that blends the traditional Moroccan nomadic experience with contemporary comforts. They are composed of canvas or other fabrics that are durable in the severe desert environment. The tents are often huge and pleasant, with individual restrooms and showers.
Dome tents in the Merzouga desert are a popular alternative for travelers who wish to enjoy the splendor of the Sahara desert without compromising comfort. They are also an excellent alternative for families and groups of friends.
Benefits of staying in a dome tent in the Merzouga desert
Images of hard surroundings and tough living may spring to mind when you think about camping in the desert. Dome tents in the Merzouga desert, on the other hand, provide a pleasant and safe shelter alternative. With their tough materials and solid structure, these tents are built to survive the harsh desert climate.
Dome tents are not only practical, but also large and well-ventilated. Many include zippered doors and windows that enable you to enjoy the cool desert air while keeping sand and insects at bay. This combination of comfort and safety makes them a perfect alternative for individuals who want to enjoy the desert without compromising contemporary conveniences.
Comfort:
Dome tents are large and comfy, with lots of space for movement. They're also well-insulated, so you'll stay warm even in the chilly desert air.
Privacy:
Dome tents provide more privacy than other tent styles, such as communal camping tents. This is critical if you want to have a quiet and undisturbed desert experience.
Amenities:
The majority of dome tents have basic comforts such as mattresses, sheets, and power. Some even have their own bathrooms.
Location:
Dome tents are generally positioned in great desert locations with breathtaking views of the sand dunes. This means you'll be able to wake up to breathtaking sights every morning.
Also read: Merzouga Travel Guide: Best Things To Do
Adventure:
A dome tent is an excellent way to enjoy the desert and everything it has to offer. From the luxury of your own tent, you may do camel trekking, sandboarding, and stargazing.
Where to find dome tents in Merzouga?
Merzouga has a wide variety of dome tents to select from. Some camps just contain a few tents, while others have dozens. The cost of a dome tent varies according to the size of the tent, the amenities it includes, and the location of the camp. Here are two of the best dome tents in Merzouga:
1: Desert Luxury Camp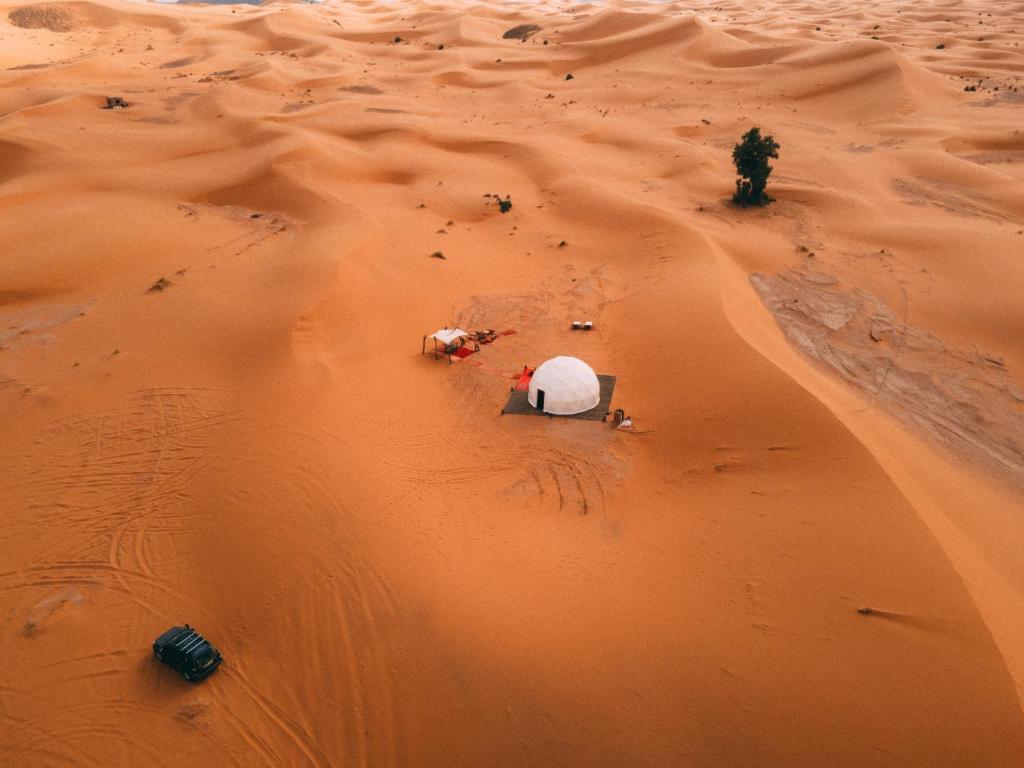 Desert Luxury Camps' Dome tents provide a unique and opulent experience, making it a celebrity's hideaway in the Merzouga desert. These one-of-a-kind suites provide a quiet and isolated atmosphere for visitors looking for a really memorable experience. The Dome tents, nestled among the magnificent desert dunes, provide amazing views of the surrounding countryside. Each tent is completely equipped with contemporary conveniences such as a toilet, sink, and shower, ensuring that visitors have the most comfortable stay possible.
Desert Luxury Camps' Dome tents are meant to make visitors feel like royalty. Visitors are welcomed with a refreshing drink upon arrival and introduced to the courteous staff, who will see to their every need during their stay. The air-conditioned tents provide relief from the desert's heat or cold, enabling travelers to rest and unwind after visiting the dunes. With power in every tent, visitors may remain connected to the outside world if they like.
The in-ground swimming pool, situated only minutes away from each guest's tent, distinguishes Desert Luxury Camps from other lodgings. This pool, housed under its own tent pavilion, provides a tranquil and clean sanctuary for visitors to escape the Sahara's searing heat. Desert Luxury Camp is one of a kind in that it offers such magnificent facilities in the center of the desert.
Desert Luxury Camps' Dome tents provide an unrivaled luxury camping experience in Merzouga. These tents appeal to celebrities wanting seclusion and luxury, with their private position among awe-inspiring sand dunes and top-notch facilities such as air conditioning and an in-ground swimming pool. As we go on to another exceptional component of this camp, the luxury oasis camp, it becomes evident that Desert Luxury Camp is one of the top luxury dome tents in the Merzouga desert.
Also read: Best 10 luxury camps in Merzouga desert
2: Sunrise Sahara Camp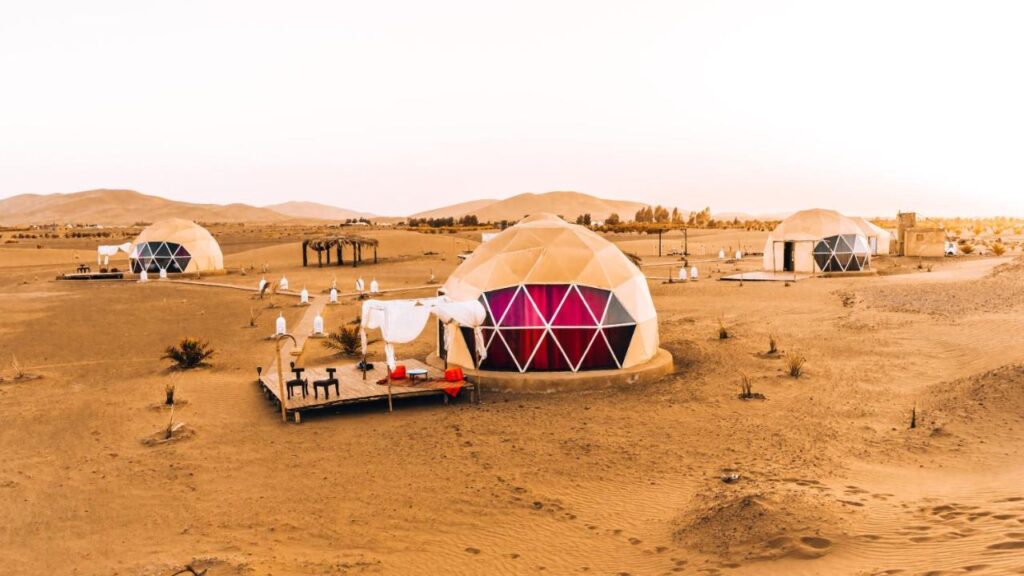 Sunrise Sahara Camp, located at the foot of Erg Chebbi's spectacular dunes, is a mesmerizing retreat where guests can immerse themselves in the spirit of the desert and enjoy the rich traditions of the Berber people. This rare, high-quality camp is developed for interested visitors and gaming enthusiasts, offering them a unique charm that cannot be found elsewhere. The essence of the desert and the Berber people pervade every area of Sunrise Sahara Camp the moment you walk inside. A small nomadic family established the camp by turning their way of life into an extraordinary experience to share.
Sunrise Sahara Camp's DOME tents are one of its most distinctive characteristics. These lodgings offer visitors comfort and luxury while also enabling them to interact with nature. The tents are well-appointed and roomy, with typical Berber design that represents the local culture. Inside each tent, comfy mattresses are furnished with luxurious blankets and pillows, assuring a pleasant night's sleep after a day of desert adventure. From your little paradise, you may gaze out at the towering dunes of Erg Chebbi or just rest beneath a star-studded sky.
Sunrise Sahara Camp distinguishes itself from other luxury camps in Merzouga not only by its gorgeous setting, but also by its dedication to offering an exceptional experience for its guests. Camel trekking through extensive sand dunes, quad riding experiences, and evening entertainment with traditional Berber music and dance performances are all available at the camp. Guests may also enjoy delectable meals made by outstanding local chefs utilizing fresh ingredients acquired from neighboring oases. Sunrise Sahara Camp perfectly portrays the beauty of this magnificent desert terrain, with every feature deliberately created to create a feeling of peace and authenticity.