La Marsa, one of Tunis' richest enclaves, is also a popular destination for international expatriates and vacationers. But we won't use that term to describe it. We consider La Marsa to be a tiny version of Tunisia. It is a place where many cultures can coexist peacefully, and where the city's history can be seen in every building.
This city has a distinct atmosphere from the rest of Tunisia. Enjoy your excursion to the area's historical and natural landmarks while getting a glimpse into the lives of the residents.
This guide will give you an idea of what life is like in La Marsa, whether you're planning to stay for a while or are simply planning a vacation. Food, a beach, unique sights, and a laid-back atmosphere ensure that visitors of all stripes will enjoy their time in La Marsa. With this guide, the Scributors crew has you covered.
La Marsa History
History buffs may delve into the interesting Phoenician and Roman eras that molded this seaside town by visiting the ancient remains of La Marsa. Consider what it might be like to explore the ruins of a Phoenician trade station that was established more than two millennia ago. Walking amid the ruins, one can almost hear the hum of life that once prevailed there.
The Phoenicians weren't the only ones who left their imprint on La Marsa; the Romans did as well. Be amazed by the villas and other buildings they constructed, which are a lasting legacy of their creativity and skill.
But that's not the end of La Marsa's narrative. This seaside town was an important Muslim settlement during the Arab invasion of Tunisia in the 7th century, which, if you're into history, you'll find fascinating.
Not to mention the devastation wrought upon La Marsa by the Spanish in the 16th century. The Ottomans, however, restored the city in the 17th century, transforming it into a chic summer retreat for the Ottoman aristocracy.
How To Get To La Marsa, Tunisia?
By train: Take the train from the downtown TGM station and take in the sights. The good news is that there is no way to get lost at La Marsa since it is where the railway stops for good. You should not worry about using public transit throughout the city if you are a solitary traveler or if you just do not feel confident doing so.
By taxi: Take a hat and tell the driver you need to go to La Marsa from anywhere in Tunis. The most you'd pay would be 12 TND. InDriver is just one of the numerous cab applications available as the nation begins to embrace digitization. Introverts may find this task less taxing. Simply enter the full street address of the destination.
Where To Stay In La Marsa, Tunisia?
Want to relax and take in the beauty of this seaside jewel, but don't know where to go? Allow me to show you the finest accommodations that La Marsa has to offer.
La Marsa, Tunisia, is a coastal town that caters to tourists of all stripes. Find everything from five-star beachside resorts to intimate boutique hotels in this area.
Below are the most recommended accommodations in La Marsa:
Maison d'Hôtes Dar Ennassim: This hotel has a patio and pool on its upper story. All guests have access to the hotel's free Wi-Fi network. This B&B has air conditioning and flat-screen TVs in every room. There is a private bathroom, minibar, and safe in each room. The distance to the airport in Tunis is 13.5 kilometers.
Dar El Kif – La Marsa: Located less than 1 km from Corniche Beach, the air-conditioned rooms at Dar El Kif – La Marsa come with a hot tub, an open-air bath, and complimentary WiFi.
Barbecues may be enjoyed in Dar El Kif – La Marsa. Laundry services and office amenities like fax machines and photocopiers are offered onsite.
Dar Souad: It is located in La Marsa, 1.3 kilometers from La Marsa Beach, and has an open-air spa, garden, and views of the pool. This facility has a restaurant and an outdoor pool open all year, in addition to a communal kitchen for guests to use. There are airport shuttles and vehicle rental services offered by the lodging.
You can look for more options here.
What To Do In La Marsa, Tunisia?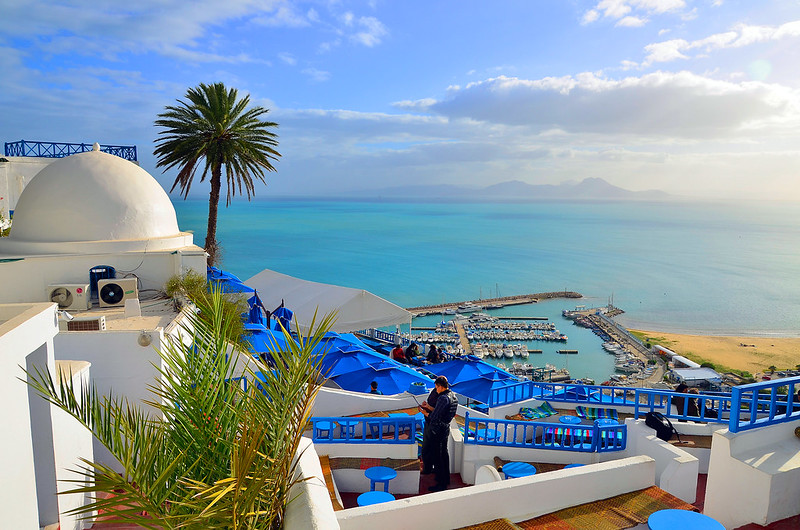 There is no shortage of activities in which you can engage when visiting La Marsa, Tunisia. Stop through Abdelliya Palace to get a feel for the country's opulent architectural history. The Synagogue Keren Yéchoua De La Marsa is a stunning religious building that you should see if you find yourself in the area.
Amble down Marsa Plage and take in the beautiful scenery of the Mediterranean. Remember to take a picture in front of the famous Qobbet El Hwa as well. Take a break with a cup of tea in the cozy Saf-saf café located just adjacent to the El Ahmadi Mosque.
Visit Abdelliya Palace
Abdelliya Palace is a historical and architectural landmark in its own right. Only one palace from the Hafsid period survives. The pool and tower design are reminiscent of Moroccan architecture. The reason behind this is that Andalusian design principles were heavily adopted.
Today, the palace is a popular destination for tourists interested in learning more about Tunisia's past and present. The palace hosts cultural events on occasion to provide a stage for up-and-coming artists to share their work and provide a source of entertainment for the local community.
Visit The Synagogue Keren Yéchoua De La Marsa
This synagogue, founded in 1927 by the Jewish community organization Keren Yéchoua, serves as a communal hub for Tunisia's Jews. Both were named for the generous Yéchoua, who provided the land on which the sacred shelter was constructed and other resources to the community.
Since it was opened, generations of Jews in Tunisia have flocked there to worship, study, and commemorate special occasions. This is the epitome of peaceful coexistence in Tunisia.
Stroll Along Marsa Plage
You may find the city's medium-sized shopping mall, Zéphyr, and a corniche with a panoramic sea view in the neighborhood of Marsa Plage. The corniche comes alive with bands and jasmine sellers in the summer. Families and children are enjoying the sunshine and mild temperatures of the Mediterranean.
The beach is only a few steps away, down the stairwell. Feel the energy of this vibrant metropolis right now. Guests doing beach walks. A few of them seem to be relaxing or enjoying a picnic. Qobbet El Hwa is a remarkable structure that stands out as you approach the shore.
Take A Picture In Front Of Qobbet El Hwa
Qobbet El Hwa, which was constructed in the late 17th century, was the Bey's residence. The facility was used for getaways when women wanted to take private showers without drawing attention to themselves. When you get close to Qubbet El Hawa, you'll see holes in the ground. These slits made it easy for women to enter and leave the beach without being seen.
Various functions were performed there at various times. It thereafter became a popular eatery and watering hole. The structure was abandoned at the time, and its preservation efforts were minimal.
The city government warned that Qobbet El Hwa, a historical site, was in danger of collapse a few months ago.
The only way to really preserve Qobbet El Hwa forever is to pose in front of it for a photo. In other words, don't be shy about it!
Take a Tea Break at the Saf-saf Next to El Ahmadi Mosque
You can't capture the spirit of the Safsaf without stopping for mint tea there. There is a great outdoor café just adjacent to the El Ahmadi Mosque that you should check out. Everything from a glimpse of daily life to a view of the Mosque to a tasty cup of tea may be found at the café.
What to Eat in La Marsa?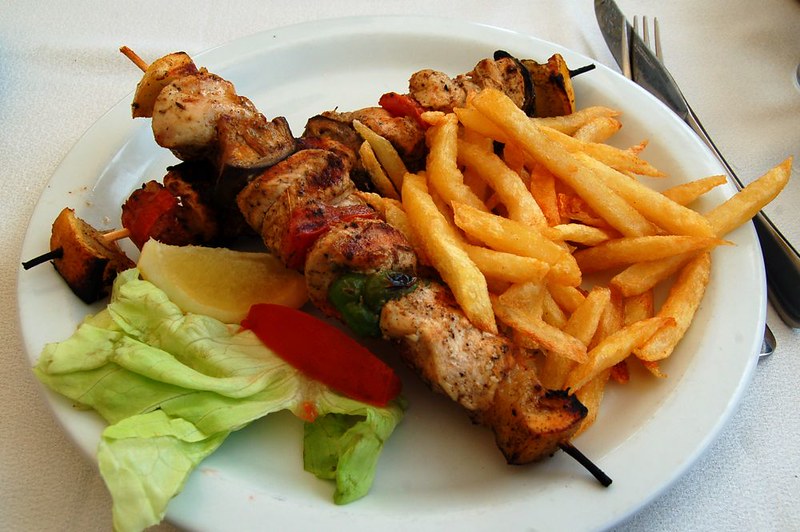 The Couscous Tree and Ouled el Bey in La Marsa are great places to experience several types of couscous and other traditional dishes.
The vegetarian couscous at Couscous Tree is excellent, and it's only one of several couscous alternatives available at this restaurant. You can get couscous to your liking, whether you're looking for the classic Moroccan kind or the one-of-a-kind Tunisian twist.
On the other hand, the native couscous in Ouled el Bey is delicious, whether you want to make it with fish or beef. Their menu is updated regularly to provide customers with the best possible taste and quality.
However, don't restrict yourself to couscous alone! Try some traditional Tunisian meals, such as the beef and liver stew known as Kamounia or the fish and tomato stew known as Kabkabu. These meals are a wonderful introduction to the diverse and flavorful cuisine of Tunisia.
Best Time To Visit La Marsa In Tunisia
Spring and autumn are the best seasons to enjoy La Marsa, Tunisia, for all its splendor. The weather is nice and there is less rain during these seasons, making them ideal for a vacation.
Warm, bright days without the sweltering heat of summer are seen in the spring and autumn. Visit La Marsa at these enchanted times of the year if you have a deep yearning for independence and want to see the city at its finest.
La Marsa is at its most beautiful and offers the best opportunities to experience the local culture and outdoor activities when spring and autumn arrive. Nature lovers and thrill-seekers alike will find enough to do here.
Conclusion
In conclusion, La Marsa is an essential stop on any tour to Tunisia. There's something for everyone to enjoy in this city's fascinating past, stunning beaches, and warm, welcoming culture.
La Marsa is a one-of-a-kind destination that won't soon be forgotten, whether you're looking to learn about the region's rich history, unwind on the beach, or sample some delicious regional food.
Get ready to take advantage of all La Marsa has to offer by packing your luggage and reserving your plane tickets. There's no way you'll be disappointed.
Read also: Exploring Tunis, The Capital Of Tunisia.