Looking for a lovely seaside settlement to visit on your next vacation to Tunisia? Sidi Bou Said is the place to be. Narrow streets lead to blue and white houses that overlook the Mediterranean Sea in this historic settlement that has been inhabited since the 13th century.
Everyone can find something to love about Sidi Bou Said, whether it's the town's rich history, the beautiful beaches, or the friendly locals.
In this article, we'll tell you all you need to know to have a wonderful time in this beautiful place. We've got you covered, from when to travel to what to see and do.
So be ready to have a once-in-a-lifetime experience in Sidi Bou Said by packing your baggage.
A Brief History of Sidi Bou Said
Sidi Bou Said is a town in Tunisia that has been influenced by many different cultures and civilizations throughout the course of its long history. Abou Said ibn Khalef ibn Yahia Al-Tamimi Al-Baji, a prominent Muslim religious figure, built the city in 1207. The community was named after him when he was laid to rest there.
Sidi Bou Said absorbed several cultural influences throughout the course of its long history. Ottoman sailors frequented the area in the 16th century to sell goods and relax. The French colonists that arrived in the 19th century also left their imprint on the city.
The town's architecture and customs now reflect the blending of different civilizations.
Best Time to Visit Sidi Bou Said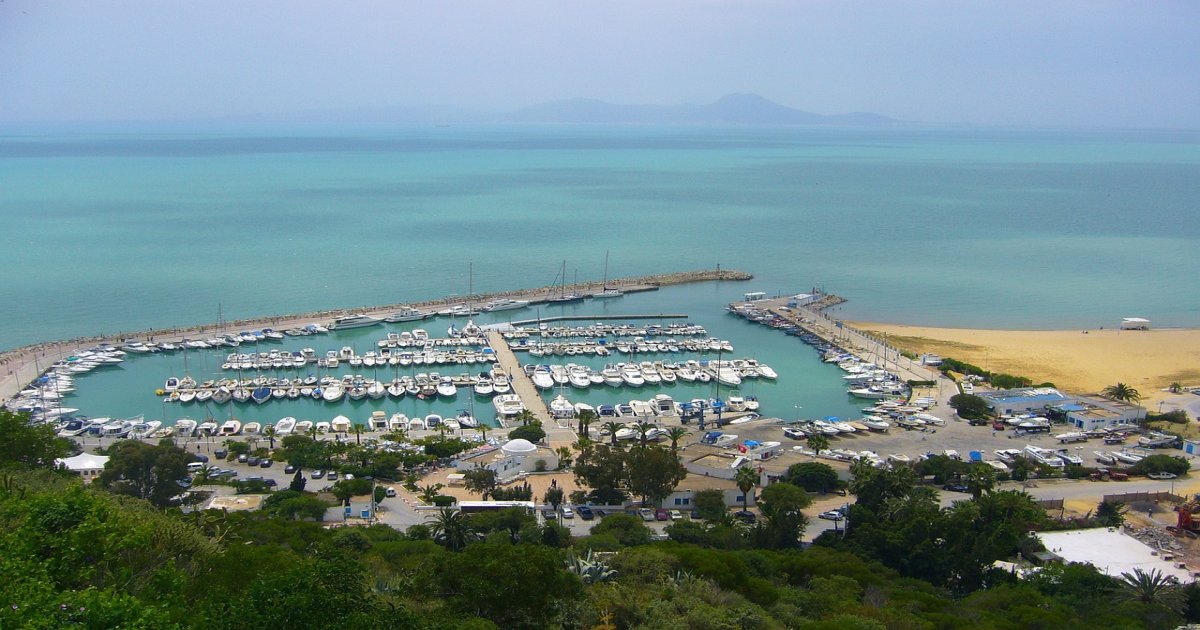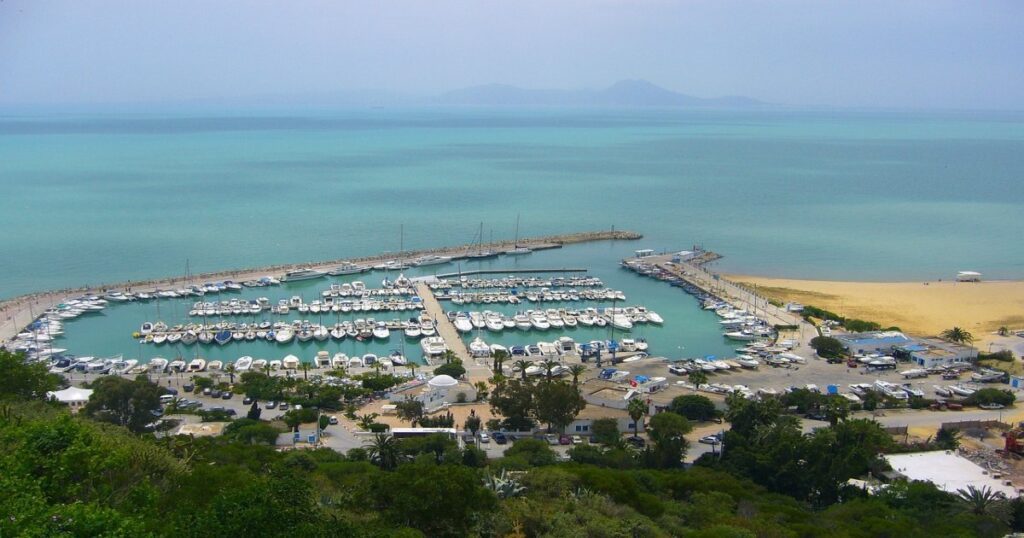 Visit Sidi Bou Said during the high season for the whole experience. Between May through October, when temperatures are mild and the sun is shining, is the ideal time to explore this charming town.
It's dry and warm enough to enjoy the town's picturesque surroundings and winding streets throughout these months. You may visit Sidi Bou Said and escape the crowds and lower rates by going in the shoulder seasons of March–April and September–November.
The weather is still mild, and there are fewer tourists in town, so you can take it easy and enjoy the peace and quiet. Keep in mind that many businesses shut during the winter months (December through February) and that the weather might be dreary and wet.
Overall, the ideal time to visit Sidi Bou Said is when you can enjoy its attractive atmosphere and friendly locals the most.
Where to Stay in Sidi Bou Said
Staying at one of the many quaint inns or boutique hotels tucked away among the winding lanes is a great way to experience the unique character of this gorgeous town. In Sidi Bou Said, you may choose from a wide range of hotels, hostels, and other types of lodging, from affordable to luxury.
Below are a few of the most recommended hotels in Sidi Bou Said Tunisia.
Affordable hotels in Sidi Bou Said:
Dar Said: It has a hammam, a swimming pool outside, and complimentary WiFi, all with a view of the Gulf of Tunis. The guest rooms, each with its own unique design, are spread out among four patios. All rooms include air conditioning, satellite television, and a minibar. There are also 4-poster beds in several of the apartments! Dar Said's complimentary breakfast includes items purchased that morning from the local market. Guests have the option of having breakfast in the comfort of their own rooms, beside the pool, or in the property's garden. There's also a bar and a 24-hour front desk available to guests at Dar Said. The hotel is located just fifteen minutes from both the airport and the heart of Tunis.
Hôtel Bou Fares: This hotel is just 700 meters from Sidi Bou Said Beach, and it has air-conditioned rooms with a terrace and free WiFi, in addition to a garden. Towels and linens may be provided for an additional fee if needed. The Hôtel Bou Fares is located close to several popular attractions, such as Amilcar Beach, and Corniche Beach. The Tunis-Carthage Airport is located about 11 kilometers from the property.
Luxury hotels in Sidi Bou Said:
Dar Fatma: The cliffside location of Dar Fatma in Sidi Bou Said, Tunisia, provides breathtaking views of the Gulf of Tunis. The rooftop patio offers breathtaking views, perfect for unwinding. Dar Fatma is an authentic Arabian home that has been renovated into a chic hotel. All of the rooms have air conditioning, private bathrooms, and televisions, and they are arranged around a lovely courtyard. In addition to complimentary breakfast and Wi-Fi, this hotel also has a hot tub where guests may unwind. The city of Tunis and its airport may be reached from Dar Fatma in only 15 minutes.
Maison Dedine- SmallLuxuryHotels -Adults Only: In addition to a shared lounge and patio, this hotel offers complimentary bikes and an outdoor pool. It offers free WiFi all around the premises, in addition to a concierge and a tour desk. The motel offers its visitors a common kitchen, room service, and a currency office. The inn's rooms all come with air conditioning, a satellite television, and a shower, plus other amenities like complimentary toiletries and a hair dryer. Some accommodations at the hotel provide views of the mountains, and all rooms include a coffee maker.
You can look for more options here:
Top Things to Do and See in Sidi Bou Said
Discover the best of what Sidi Bou Said has to offer by strolling its quaint alleyways and lanes. You shouldn't miss these three sights while you're here:
The Blue and White Village is a fascinating and unusual residential neighborhood and one of the most well-known features in Sidi Bou Said. It's an unforgettable experience to stroll the winding lanes and take in the stunning architecture of the homes and structures.
Sidi Bou Said is perched on a cliff above the Mediterranean Sea, so visitors may take in stunning views of the sea. Walk down the shore and feel the salty air, or relax at a waterfront café and watch the ships pass.
Dar el-Annabi Museum is a typical Tunisian home-turned-museum showcasing traditional Tunisian clothing, jewelry, ceramics, and other objects. It's a wonderful opportunity to get insight into Tunisian heritage and customs and to admire the work of native craftsmen.
Conclusion
Don't let the chance to enjoy the beauty of this Tunisian treasure pass you by.
Sidi Bou Said is a charming town that combines exotic scenery with rich cultural traditions and ancient history. It's a great area to take a stroll on the cobblestone streets and take in the Mediterranean Sea vistas, as well as the beautiful blue and white buildings. Sidi Bou Said has much to offer everyone, whether they're interested in history, cuisine, or just taking it easy.
Anyone visiting Tunisia should make a stop at Sidi Bou Said. This community is a hidden treasure, with beautiful buildings and a wealth of history and culture.
Get your luggage packed, get your plane tickets, and get set for a trip of a lifetime to this stunning part of the globe.
Read also: Day trip to Carthage and Sidi Bou Said from Tunis.