Orange Beach is a small city in Alabama's coastal region that sits on the coast of the Gulf of Mexico. It is one of the most popular tourist destinations in the state due to its breathtakingly beautiful and expansive beach with white sand, warm waters, and a vast range of activities that can be enjoyed both in and out of the water. Also, there are a number of sizable parks, including Gulf State Park, Alabama Point East, and Orange Beach Waterfront Park, among others. The Wharf is a famous tourist site that has a variety of stores, restaurants, and bars, in addition to the Indian and Sea Museum, which provides information about the history of the area.
Where to stay in Orange Beach?
There are a lot of beautiful accommodations in Orange Beach where you can spend the night. Choose your own here:
Orange Beach boat tours and fishing charters
What to do in Orange Beach Alabama?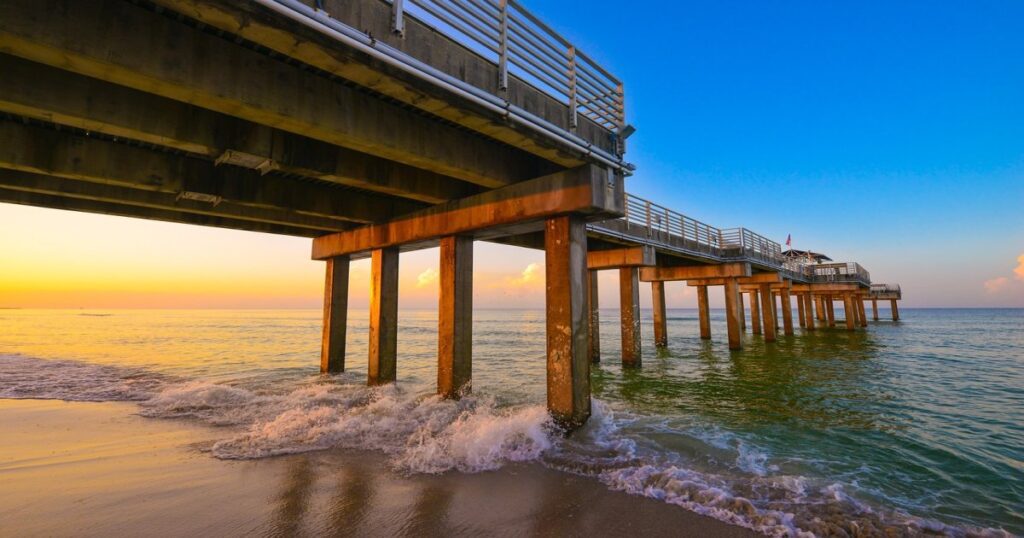 Go across Hugh S. Branyon Backcountry Trail
Visitors to Orange Beach have the chance to get away from the hustle and bustle of the tourism destination world and immerse themselves in the wonderful world of the Hugh S. Branyon Backcountry Trail, which features towering pines, scrub oak, palmetto, and thick, green deer moss. The trail is named after Hugh S. Branyon. The trail passes through tranquil freshwater lakes, mystifying coastal marshes, and verdant wetlands that are bursting with life, and is just a few minutes from the hotels and crowded beaches. You have a good chance of seeing a white-tailed deer, a coyote, a bobcat, a wild boar, an otter, a crocodile, and one hundred different kinds of birds as you stroll along the simple track. Interpretive signs have been placed throughout the paths to assist visitors in recognizing flora and fauna.
Visit Orange Beach Waterfront Park
Orange Beach Waterfront Park is a waterfront park that is shaded and comfortable, and it is located on the stunning Wolf Bay. The fishing pier, which is 400 feet long and the most prominent feature of the area, is an excellent location to cast a line into the water and cross your fingers for a bite. A variety of lovely picnic pavilions with chairs and tables, barbecue grills, picnic shelters, bathrooms, and a magnificent children's playground with swings, slides, and a jungle gym can be found in the large park. There is a path that meanders through this gorgeously designed sanctuary, passing through numerous lush plants, flowering shrubs, and towering trees. The park is a well-liked location for weddings as well as various parties, festivals, and other public events, and it is also an excellent location from which to see the breathtaking sunset over the bay.
The Wharf in Orange Beach
Among the many options for eating and shopping along the Gulf Coast of Alabama, The Wharf stands out as the most well-liked, vibrant, and welcoming of all. A variety of eating options, from upscale to informal, Southern to coastal, are available to tourists. Nightlife persists at several watering holes serving daiquiris and other libations, renting out boats, hosting live bands, and airing a variety of sporting events. Many spas and salons can be found on the Wharf, where you may treat yourself to a relaxing massage, revitalizing facial, or a new hairdo. Shop till you drop at the Wharf, which is lined with independent boutiques and specialty stores. Home furnishings, sports equipment, presents for special occasions, and more are all available. The Wharf is on Canal Road in Orange Beach.
Go to the Adventure Island in Orange Beach
Across the street from the Gulf of Mexico, Adventure Island is a famous amusement park in Orange Beach. All members of the family will enjoy the park's many thrilling attractions. You may enjoy a variety of rides and games, such as go-karts, bumper boats, lazer tag, adventure golf, an arcade, and paddle boats. Plenty of kid-oriented rides are available. The massive, five-story volcano will send flames leaping into the air, providing entertainment for the entire family. At Adventure Island, you can play a high-energy game of tag, take the kids mini-golfing, climb a coconut tree, or unwind with a leisurely boat ride on the forgotten lagoon lake.
Try the Boat Dolphin Cruises in Orange Beach
Enjoy two hours of nonstop fun with the kids in the bays of Orange Beach and Alabama Gulf Shores on the Fun Boat Dolphin Tours. Orange Beach's Sportsman Marina is the place to begin. An enjoyable boat trip around the bay to see dolphins in their natural habitat is the first step in the excitement. Seeing a pod of dolphins means you will witness the whole family, from the newborn to the elders. Dolphins are highly sociable animals that always move in groups or pods. Deckhands that accompany tourists on dolphin tours are experts on the local marine fauna and may provide in-depth answers to any inquiries passengers may have. The second half of the adventure consists of water fights, which follow the first half's viewing of dolphins swimming about the boat and performing for the crowd.
Children are given water cannons and squirt guns to play with and enjoy splashing each other. In order to provide each passenger with undivided attention, the boats only carry a maximum of 35 passengers on their dolphin cruises.
Try Sailing Charters and Sunset Cruises
Take a trip on the bay or out into the Gulf of Mexico with Orange Beach Sailing Charters. The Perdido Pass bridge, the jetties, the pass, playful dolphins, and miles of azure water are all seen on a variety of tours. On the Gulf side, you'll see other boats and the shoreline. Consider booking a short, introductory sail of 1 hour if you're bringing the kids. Also, a sunset cruise is available for those looking for a more intimate trip. Private charters for no more than six individuals are available. Drinks and snacks are BYO.
Visit the Gulf State Park Nature Center
Species of both plants and animals peculiar to the Gulf Coast may be found at the Nature Center at Gulf State Park. Located inside the Gulf State Park campsite, the center hosts a variety of events throughout the year that aim to educate guests about the local ecosystem. Anybody interested in learning more about the flora and fauna that have made the Gulf Coast their home may sign up for a fun guided walk along the beach, through the woods, or along the pier. Several of their animal ambassadors, such as turtles, alligators, snakes, and owls, are sure to be a hit with the kids.
Pay a visit to the Cool Shots Selfie Museum
The Cool Shots Selfie Museum in Orange Beach is a haven for those who love taking selfies and posting them online, with 50 different sets available for use. You may take hundreds of amazing selfies here, and you'll also discover the ideal setting for your next Instagram Reels or Tik Tok clips. You can locate stunning locations for taking expert-level family and group shots even if you're not a selfie or social media person. The museum is a great place to host events and parties for people of all ages, and when you book a party there, your guests can enjoy taking selfies in the museum before they feast on pizza, birthday cake, and more.
Restaurant Cobalt
Cobalt – The Restaurant should be at the top of your list of places to visit in Orange Beach. The restaurant's magnificent location on the edge of Perdido Bay and its exquisite dishes have garnered widespread accolades. The menu is thoughtfully curated to provide a modern take on coastal cooking that will have you coming back for more. Among the specialties are their famous Firecracker Shrimp, which are served with a spicy remoulade and the finest seafood available from the Gulf of Mexico. Lunch options for non-fish eaters include pizza, chicken, and more.
Explore the Indian and Sea Museum
Orange Beach is home to the Indian and Sea Museum, an interesting local museum housed in a former school built in the early 20th century that highlights the area's Native American and maritime history. The museum collects and displays many relics that provide light on the region's marine and indigenous past. Generous donations from the families of fishermen help us remember the difficulties and successes of the early fishing business in the region. Built-in 1910 as a schoolhouse, the current museum building was renovated in 1995 and relocated to its current site in 1999.
Visit the Southern Grind Coffee House
The Southern Grind Coffee House, which first opened its doors in 2012 in Orange Beach's The Wharf, has quickly become a favorite gathering place for locals. Everyone who comes in for a cup of Java or one of their one-of-a-kind pastries, cakes, or sandwiches is immediately drawn to the space's bright, airy atmosphere and the eccentric elements and design it has. We use only the freshest, locally sourced ingredients in all of our dishes. All of their pastries, gelatos, and other sweets are produced from scratch using tried and true family recipes. You may relax in the courtyard with your pet. Guests may also use the free Wi-Fi to stay connected on social media or check their inboxes.
Have a walk at Lartigue's Original Fresh Seafood Market
Orange Beach is home to Lartigue's Fresh Seafood Store, a family-owned company that has been selling seafood collected in the Gulf of Mexico since 1979. They have a wide variety of food and fish available, including fresh fish and seafood, steamed seafood to go with a side of corn and potatoes, country boils, and more. Your catering requirements, from a simple family dinner to a lavish wedding reception, may all be met by Lartigue's. They have a lot more than just fishing bait and equipment for sale. Bring your basket to the beach and they will fill it with a delicious meal, complete with condiments and tableware.
Try the Big Fish Restaurant & Bar in Orange Beach Alabama
The Big Fish Restaurant, which can be found in a shopping center on Canal Road in Orange Beach, Alabama, is a classy place to have some seafood. The main dining area has white tablecloths and a contemporary, upscale design, making it a great spot for both professional lunches and family dinners thanks to the spacious bar. The sushi and seafood here are what make the eatery renowned, but there's enough for everyone on the menu. The Hurricane is a must-order for seafood lovers, as it has an abundance of shellfish cooked in their signature tomato broth. They have a tiny wine selection, but the bottles they offer are excellent. Cocktails at this establishment are top-notch.
Try the City Donut
City Donut has been serving delicious treats to Orange Beach residents for over ten years. This establishment is run by a family, and they are very happy to sell their freshly made yeast and cake donuts. In order to get your preferred flavor before supplies run out, you'll want to wake up early. City Donut's baristas are standing by to brew your preferred espresso as you peruse the donut selection.
Play the Civil Axe Throwing
This modern exciting sport of axe throwing is sweeping the United States. Come to Orange Beach and experience the thrill of axe throwing like never before at Civil Axe Throwing. They've got a staff of experts ready to show you the ropes and help you hone your axe-throwing skills so you can consistently hit your target. Anybody above the age of ten is encouraged to give it a go. Each of the several spacious lanes can accommodate as many as eight players. Please remember to bring your own food and drink, and to wear shoes with closed toes.
Play the Breakout Games
Getting out of the daily grind might be as simple as booking an escape room visit. If you're looking for a fun way to spend an hour with friends or family in Orange Beach, go no farther than Breakout Games. All of the rooms may be rented exclusively for your company, so you won't ever have to share an escape room with complete strangers.  There is no better way to bond a group than via the shared challenge of attempting to escape a room.
Related articles