Want to experience some independence? What you need is a day trip to the Phi Phi Islands to satiate that need. The Phi Phi Islands in Thailand are a wonderful place to get away from it everything.
You may be wondering, "Why do I need to take this tour?" Why should you visit the Phi Phi Islands? Well, apart from the obvious appeal of magnificent white-sand beaches and vivid coral reefs, the islands provide a feeling of freedom that is difficult to obtain anywhere.
About Phi Phi Islands
The Phi Phi Islands are a beautiful group of islands in the Andaman Sea, with the larger and more well-known islands being Phi Phi Don and Phi Phi Leh.
Those in search of some independence and excitement will find the islands to be a true paradise. Phi Phi Islands provide a beautiful getaway from the humdrum of daily life with its pure turquoise seas, white sand beaches, and lush green scenery.
The sole inhabited island in the Phi Phi Islands, Phi Phi Don, is a bustling commercial center. Many different types of hotels, eateries, and nightclubs await you here. Phi Phi Don is perfect for those who want to unwind on the beach or live it up in the vibrant nightlife scene.
On the other side, Phi Phi Leh is an uninhabited island with breathtaking scenery. It is home to some of Thailand's most stunning beaches, including Maya Bay. The bay that was used in the film "The Beach" is now a popular tourist attraction.
Awestruck wonderment is guaranteed as you take in the breathtaking scenery of the bay's pure waters and high limestone cliffs. Phi Phi Leh is a haven for individuals in search of freedom and adventure, whether they choose to lounge on the beach, swim the island's brilliant coral reefs, or discover the island's secret lagoons and caves.
Tour Overview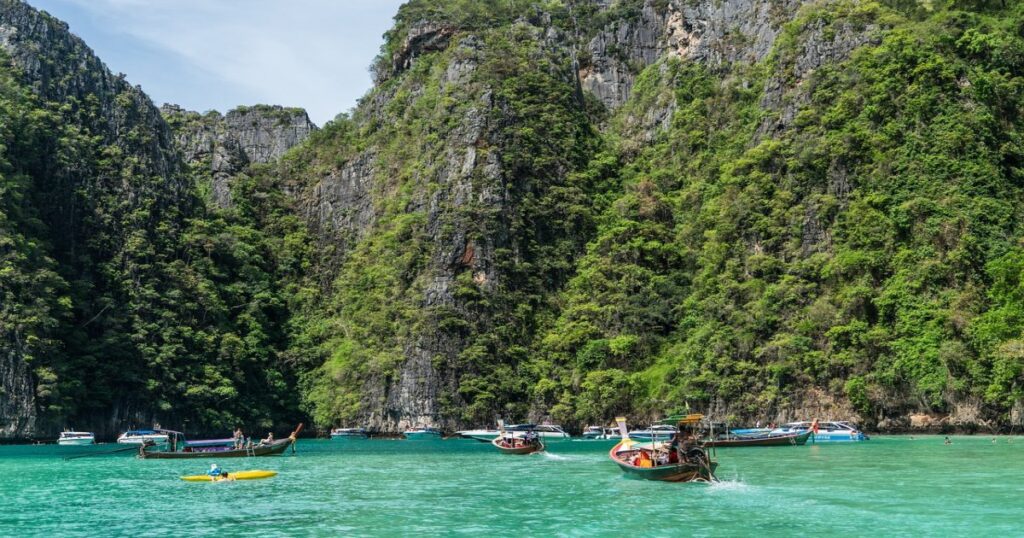 This speedboat day trip of the Phi Phi islands in just one day is a must for every Phuket visitor. Pileh Lagoon has great snorkeling and scuba diving, Phi Phi Leh is a great place to have lunch, Bamboo Island is a great place to get some sun, and the beaches of Monkey Beach and Maya Bay are straight out of "The Beach.
Everything from hotel pickup and drop-off in Phuket to boat transfers, snacks, lunch at a buffet, and snorkel gear is included on this tour.
Spend some time unwinding, swimming, and snorkeling on the islands.
Visit Maya Bay, made well-known by Leonardo Di Caprio's "The Beach" movie.
Visit Monkey Beach and see the monkeys.
Masks for snorkeling and life vests are included.
How To Book This Tour?
For a secure and safe reservation, book this tour on Viator here:
Pick-up Point
Pick-up from anywhere in Phuket and from any kind of accommodation (hotels, Airbnb, villas, hostels, etc.). We will notify you of your tour pick-up time by 5 pm the day before your trip. Please ensure that your pick up place is the same as your accommodation.
What To Expect?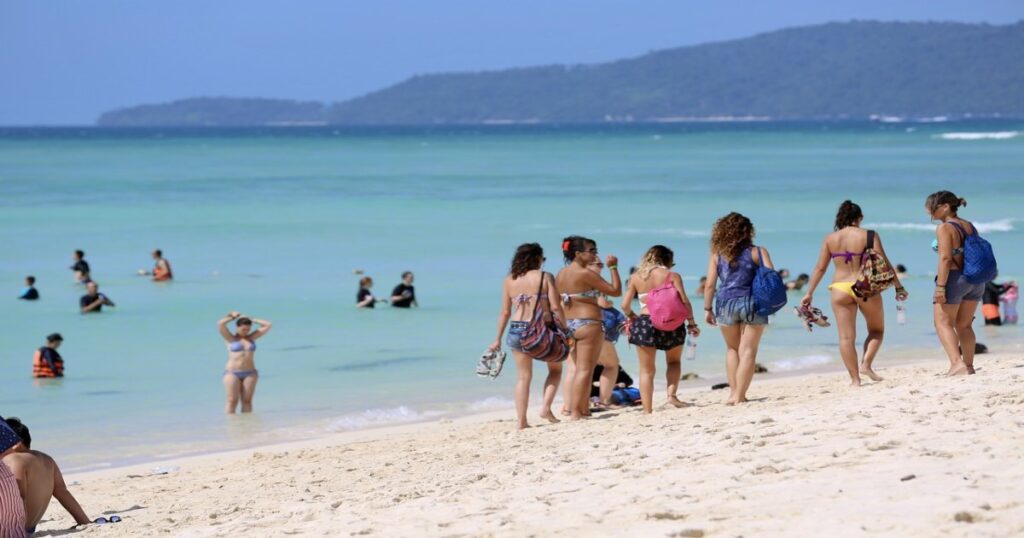 Begin with being picked up from your accommodation in Phuket and traveling to the marina. Meet your guide and board a speedboat for a day trip to the Phi Phi Islands, a series of six beautiful Andaman Sea islands.
Take in the scenery and marvel at the sight of the gorgeous islands rising like castles from the blue seas.
Seeing as how Maya Bay featured prominently in Leonardo DiCaprio's 2000 movie "The Beach," it's a good place to start. The next stop is Pileh Lagoon, a natural lagoon surrounded by towering cliffs and known for its emerald-green waters.
After that, go snorkeling in the open sea to see the incredible undersea variety of exotic fish and coral reefs, and don't forget to stop at Viking Cave, where swallow birds build their eggs.
Step ashore in Phi Phi Leh for a beachside buffet meal. And then, sail on over to Bamboo Island. Snorkel, swim, and sunbathe at your leisure on the powdery white sands of Monkey Beach, and then take a boat ride to get up close and personal with the cheeky monkeys that inhabit the nearby cliffs and trees.
After the trip is over, you will be returned to your hotel.
V.Marine Tour
Visit our reception area at the Royal Phuket Marina for some free refreshments upon arrival.
Bamboo Island
Enjoy the water, the sun, and the sand at this stunning white sand beach.
Ko Phi Phi Don
Vegetarian, vegan, pescatarian, and gluten-free options are offered, and the restaurant can accommodate most dietary restrictions with advance notice. After lunch, you'll have free time to swim in the pool or relax on the beach.
Monkey Beach
See how local monkeys behave in their natural environment, including activities like swimming, climbing, and jumping. Keep your distance from monkeys, since they are still considered to be wild creatures and might potentially bite.
Viking Cave
Visit this cave and find out why the swallow birds of the island are so valuable in the preparation of the island's signature "bird's nest soup."
Pileh Bay
Pileh Lagoon, with its emerald waters and towering limestone cliffs, is a must-see. Our guests rave about this segment of the journey.
Maya Bay
Spend an hour at the beach made famous by Leonardo DiCaprio's movie The Beach. For ecological restoration purposes, Maya Bay will be closed to the public from August 1, 2023, until September 30, 2023. To make up for it, we'll show our visitors around Maya Bay and let them snap photographs. The remaining stops on our itinerary will also get time extensions.
The trip concludes with a drop-off at your hotel once you return to the marina between 5 and 5:30 p.m.
Includes And Excludes
| | |
| --- | --- |
| Includes | Excludes |
| Hotel pickup and drop-off services | Alcoholic drinks |
| Licensed tour guide, medical insurance, fresh water, soft drinks, and snacks | National Park admission fees, 400 Baht/adult and 200 Baht/child |
| Lunch at a 4.5-star resort with a Halal buffet | |
| Life vest, fins, mask, and NEW mouthpiece for snorkeling | |
| Fruits of the season, motion sickness medicine | |
| On-board bathroom. | |
| Visit two of the Phi Phi Islands' premier snorkeling spots. | |
Why Choose This Tour?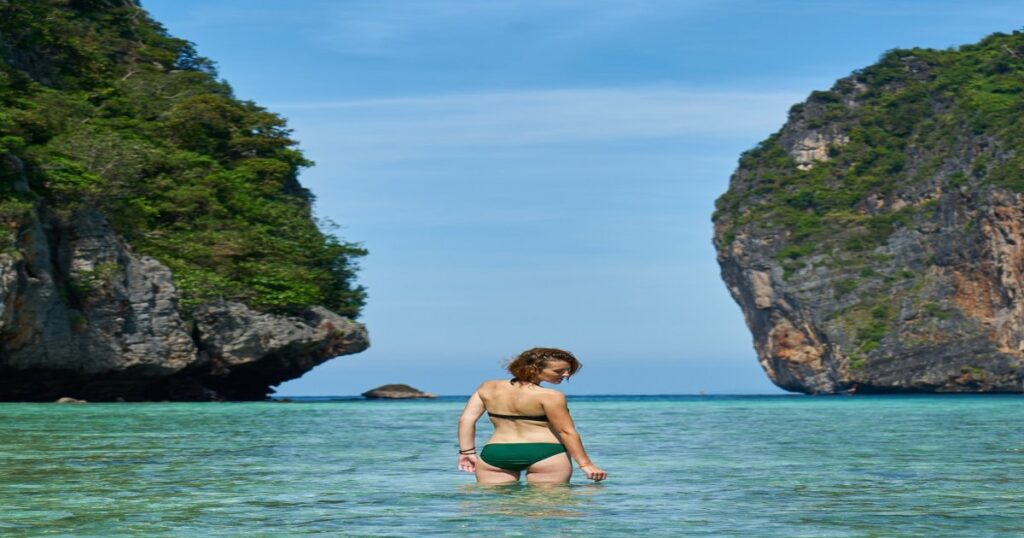 Choose an all-inclusive speedboat trip to visit the Phi Phi islands. This journey is ideal for people who have an unspoken longing for independence and like the excitement of discovering new locations.
Consider the breeze in your hair as you rush over pure water. The sun caresses your skin as you jump from paradise island to paradise island. You will get the chance to see the magnificent Phi Phi Islands on this excursion. They are well-known for their beautiful beaches, vivid coral reefs, and lush vegetation.
But what distinguishes this trip from the others? It's the ideal blend of convenience and excitement. You will not only get the opportunity to tour the islands, but you will also have the pleasure of traveling by speedboat. This guarantees that you make the most use of your time and see as much as possible. There's no need to be concerned about overcrowded boats or lengthy trip durations. This trip is intended to offer you as much freedom and flexibility as possible.
So, whether you want to snorkel in the crystal-clear seas, relax on the white sandy beaches, or discover the abundant marine life, this trip has it all. Prepare to go on an exciting vacation and make memories that last a lifetime.
Where To Stay In Phi Phi Islands?
When planning to spend the night in the magnificent Phi Phi Islands, you'll be pleased to find a wide range of lodging alternatives to meet any traveler's needs. Phi Phi Islands offers everything, from magnificent beachside resorts to budget-friendly guesthouses. Below are some of the most recommended hotels In Phi Phi Islands:
Zeavola Resort: Zeavola is the epitome of barefoot luxury and one of Thailand's most environmentally friendly hotels: This beautiful getaway is a rainforest resort fashioned to seem like a Thai village from over 30 years ago, yet with all of the facilities and services of a typical 5 Star Hotel. Zeavola is only accessible by boat and is situated on the northeast coast of Phi Phi Don. Away from the noise and activity of Tonsai, Phi Phi Islands' main hamlet and dock. There are no roads, vehicles, or motorcycles.
SAii Phi Phi Island Village: Escape to SAii Phi Phi Island Village, a dream-like tropical resort on a secluded 800-yard length of beautiful white sandy beach surrounded by the Andaman Sea's blue water. The resort is located in the tranquility of Loh Ba Gao Bay on the calm northeast coast of lovely Phi Phi Island, surrounded by 70 acres of coconut palm plantations.
Paradise Pearl Bungalows: This property in Phi Phi Islands has a garden, deck, eatery, and free WiFi. It is a few meters from Long Beach and a 9-minute stroll from Loh Moo Dee Beach. There are family rooms available at the hotel.
Read also: Prostitution in Thailand, what to know?