Do you know what the "Ionian Caribbean" is? Greece has tropical scenery in the center of the Mediterranean. The landscape between Corfu and Kefalonia is so beautiful that it has acquired its unique moniker. The coastlines of Lefkada Island, one of Greece's wildest and also featured in Homeric myths, emerge between the two famed Greek islands. A hilly region ideal for nature treks and excursions amid high-altitude settlements, immersed in the romantic mythology of the poetess Sappho, who chose to commit herself from these white cliffs.
Go there if you like: sea, nature, archaeology
For how long: one week
Best time: from May to October
Notice
Every editorial product is chosen independently, while we may be rewarded or earn an affiliate commission if you purchase anything after clicking on one of our links. The ratings and pricing are correct, and the goods were in stock at the time of publishing. This is at no extra cost to you!
Where Lefkada is located?
Lefkada, or simply Lafcada, is one of the Ionian Islands, along with Kefalonia, Zakynthos, Kithira, Ithaca, Corfu, and others. It is the fourth biggest island in the archipelago. Lefkada is linked to the mainland by a moveable bridge that opens and closes to enable boats on their route to Kefalonia access, although the Corinthians had connected the island to mainland Greece as early as the 7th century B.C. However, Lefkada is physically part of the mainland, as indicated by the bridge's 50-meter length.
It has the same traits as Puglia and Calabria due to its typically Mediterranean climate. Winters are warm and wet, but summers are bright and hot, with temperatures exceeding 30°. July and August are peak tourist months, so beaches will be crowded in addition to being expensive. As a result, June and September are the ideal months to visit the island, while other dates may be found between May and October.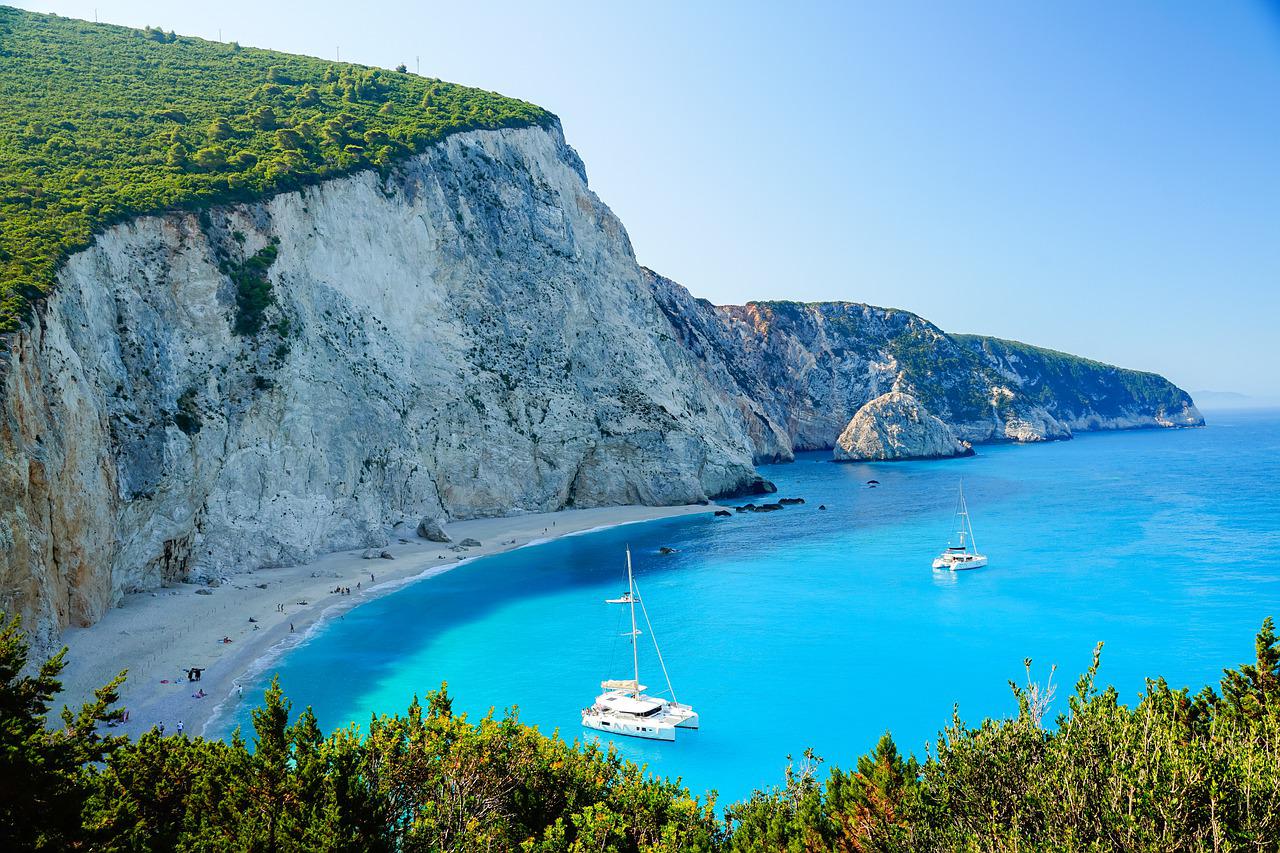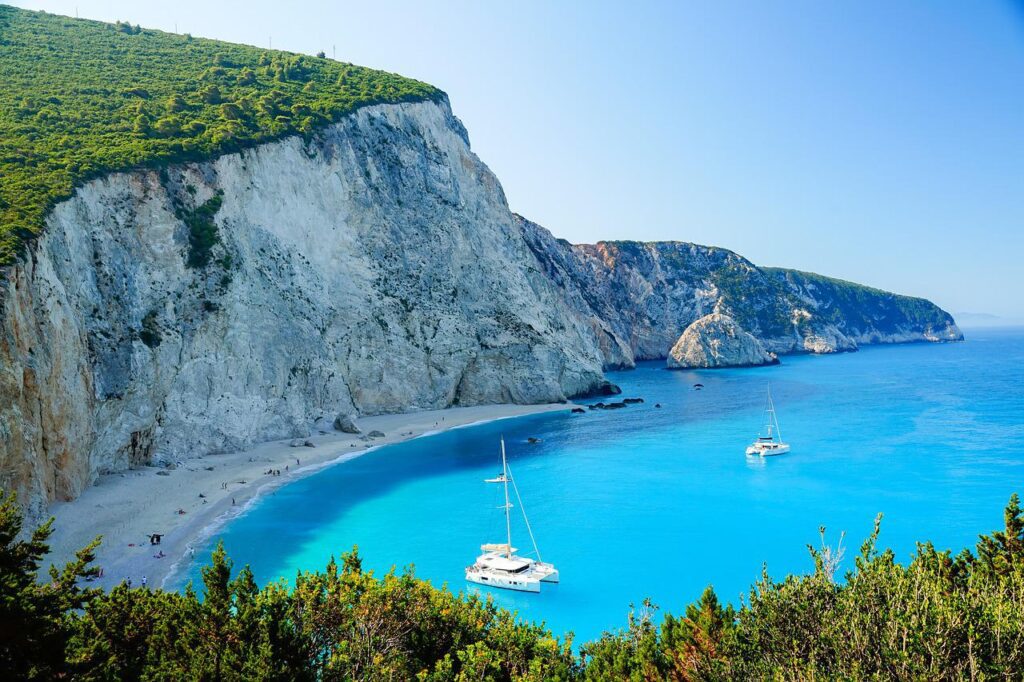 What to do in Lefkada
We begin with the name of the island's principal town, Lefkada. This charming village is distinguished by its colorful modest cottages and Baroque-style churches. The two emblems of the island's old cultural past are the Venetian fortification of Agia Mavra and the Archaeological Museum. The Faneromeni Monastery, with its icons and religious furnishings, attests to a strong spirituality. The streets of the center are lined with clubs and artisan boutiques selling traditional Greek items. If you're searching for a quiet, remote town where you may get a taste of local life, travel to Sivota in the island's east. You may get lost in this charming hamlet amid the colorful modest cottages and marquises in the little port, as well as savor some really fresh seafood. The southern settlement of Vasiliki is also a famous tourist destination on Lefkada. Take a walk around the gorgeous tiny port before spending some time on Lefkada's greatest beaches. You may also sail to the adjacent island of Kefalonia from Vasiliki. Nydri is yet another little settlement on the island's east shore. The little port and shoreline are ideal for spending enjoyable nights amid bars, music, and promenades.
Eglouvi village is one of the most genuine spots to visit in Lefkada. Eglouvi, a stone hamlet in the center of the island, stands out in the scenery with its red rooftops. However, this lentil-growing village is also a great place to start if you want to go trekking.
Aside from its beautiful beaches, the island of Lefkada is home to the stunning Dimosari Waterfalls in its interior. A magnificent trail leads you in 15 minutes to a natural marvel as high as 15 meters. The falls are flanked by towering rocks and flow into a natural pool of freezing water into which only the bravest may plunge. Will you be one of them?
Beaches in Lefkada
This little island in the "Ionian Caribbean" has various beaches worth visiting, with the wilder areas on the western side.
Aghios Ioannis is one of the beaches nearest to Lefkada's city. The long sand tongue draws many bathers, although it is a notoriously windy location. In fact, this section of the shore is popular with windsurfers and kitesurfers. Just follow the signs to Agios Ioannis from the town of Lefkada.
Pefkoulia is situated a few kilometers north of Agios Nikolaos, only a short distance from Tsoukalades by following the island's ring road. The beach is extremely popular among visitors, and it has earned a podium to the exquisite colours of the sea encompassed by the lovely white sand. Maritime pines softly and furiously attend to the soothing hours of bathers, who may rely on pubs, taverns, and umbrellas to keep them company.
Egremni is located on the southwestern coast of Lefkada. To get to the beach, you must down a 347-step staircase…but don't get sidetracked by the beauty of the water that greets you, though it is tough to ignore! Egremni is perfect for diving and swimming, however on windy days, we recommend you exercise extreme caution. The beach has numerous rows of umbrellas as well as a bar. Keep going to the beach until sunset—you won't be sorry. To get to the beach, take the route from Athani and then follow the signs to Egremni.
Porto Katsiki is considered by some to be Europe's most beautiful beach, and it is also the most well-known on the island. This beach, too, is only accessible by descending a stairway that plunges into the azure horizon. There is also a restaurant on the beach that provides beach meals to request. You must use the same route to go to Porto Katsiki.
How do you reach Lefkada from Italy?
Lefkada is an island linked to the mainland by a moveable bridge, so getting there is simple. Several shipping companies travel from Italy and arrive at Lefkada, but they all stop in Igoumenitsa; from there, you must take a vehicle or bus to the little island. The following businesses and departure cities are from Italy:
Anek Lines operates between Venice and Ancona.
Ancona Superfast Ferries sails from Ancona while Minoan Lines departs from Venice.
Agoudimos operates out of Bari and Brindisi.
Ventouris Ferries operates out of Bari.
The Hellenic Mediterranean leaves Brindisi.
The boat takes 24 hours from Venice, 14 hours from Ancona, 6 hours from Bari, and 7 hours from Brindisi. During the summer, charter flights to Preveza, Aktion's airport, which is barely 20 kilometers from Lefkada, are increased.
You may also take a conventional bus from Athens.
The death of Sappho
The most renowned of these sad stories is about Sappho, the ancient lyric poet noted for her lovely writings about women's lives and loves, particularly with other women.
Sappho, according to tradition, perished by hurling herself over the Cape, heartbroken when a gorgeous sea deity called Phaon spurned her love.
As a result, the Cape is known as "Sappho's Leap" among locals.
Although this story has persisted, several notable experts believe it is false.
Some interpret the tale to be the invention of ancient comic poets, who tease Sappho for both her frequently emotionally intense, tragic love poetry and her obvious attraction to women. In reality, the term "lesbian" is derived from the poet's home island of Lesvos.
Others see the mythology as an effort by subsequent Christian academics to conceal the poet's sexuality, which they saw as disgraceful, thereby redeeming her by shaping her into a heterosexual lady and therefore making her poetry worthy of study.
Many people have related the sad incident to one of Sappho's songs about the beauty of the sea god, in which the narrator confesses their love for the guy.
Scholars have claimed that the narrative was inspired by a misinterpretation of the narrator's identity as Sappho herself, rather than by a literary technique.
Although the authenticity of this specific narrative is questioned, numerous more traditions establishing the Cape's link to tragedy have emerged throughout history.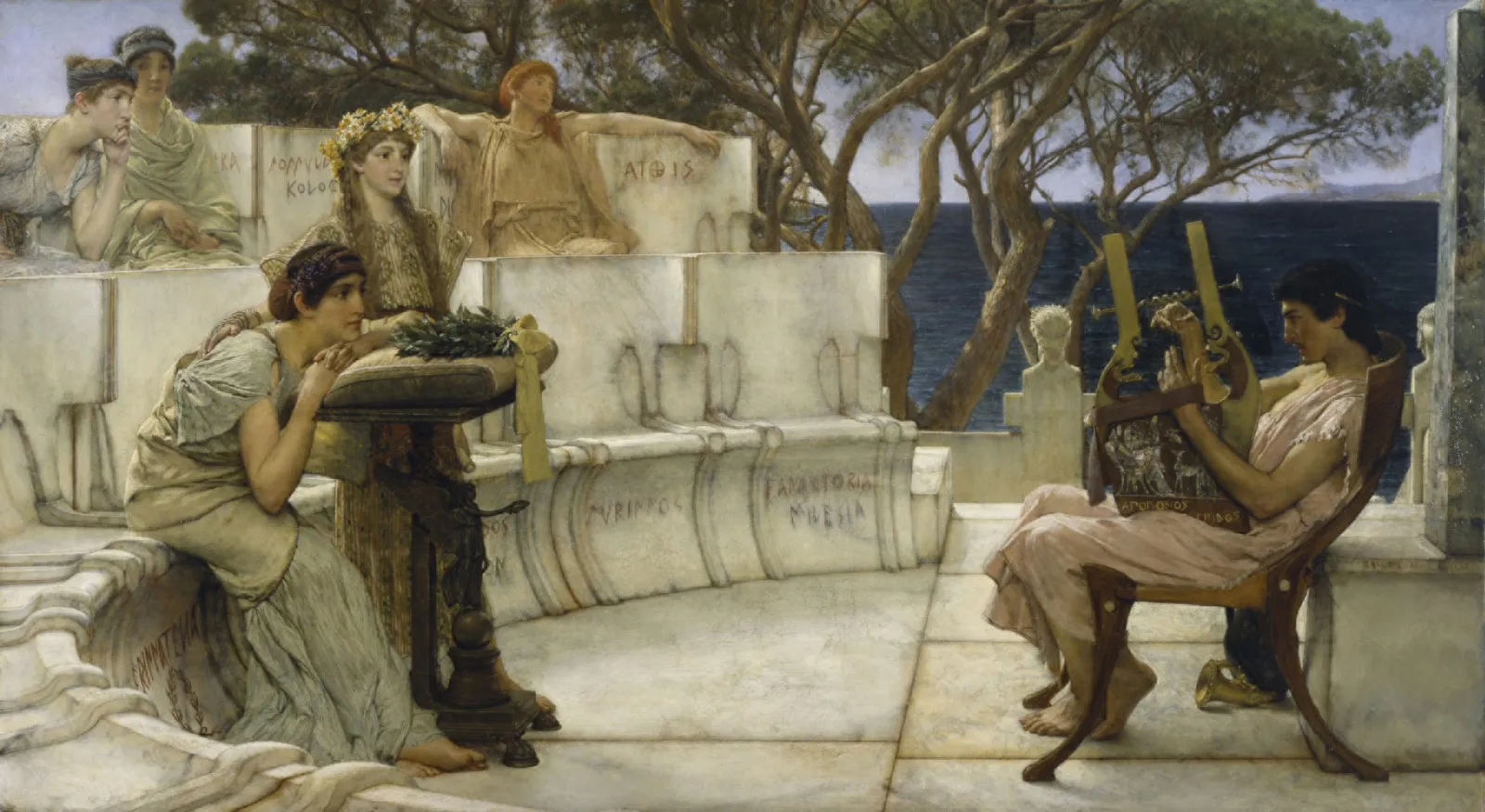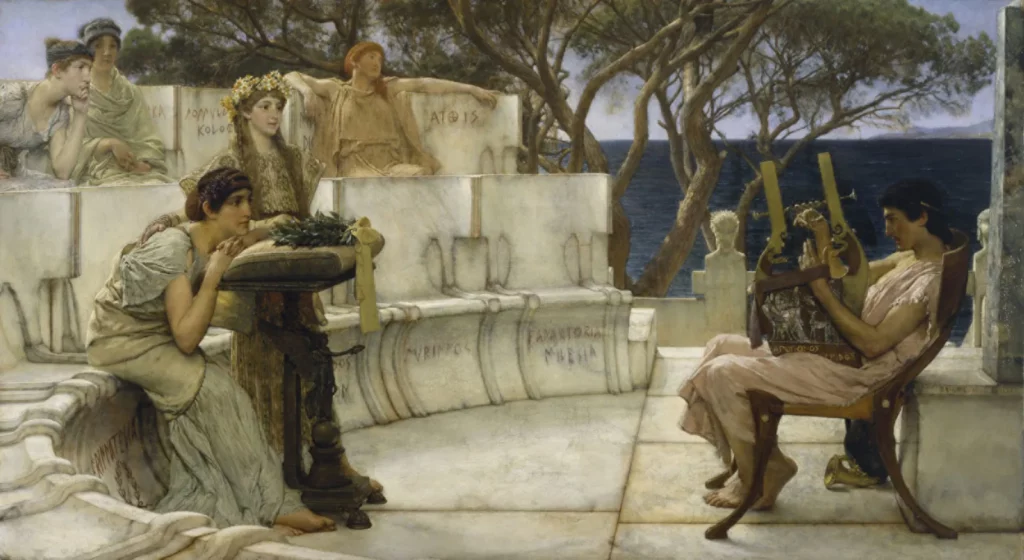 The ancient history of Cape Lefkada
Near the point of Cape Lefkada, the remains of an ancient temple supposed to be devoted to the deity Apollo have been discovered.
Although academics have not identified the temple's exact date, there is evidence that it acted as an asylum, providing even criminals with a safe haven.
Sources from antiquity also suggest an earlier ritual of human sacrifice at the site, potentially predating the temple itself, alleging that people were thrown from the cape to placate the gods, afterward replaced by animals.
To add to the melancholy connections with Cape Lefkada, some versions of the tale of Aphrodite and Adonis finish with the goddess of love leaping from its heights after learning of her lover's death.
However, since she was a goddess, she did not die and fell into the ocean unscathed.
Some say that the island is named after the mythological character of Leukatas, who plunged over the island's cliffs after being continuously followed by Apollo, who had amorous aspirations.
Others, however, refer to the island's distinctive white cliffs, claiming that the name Lefkada is derived from the Greek word for white, lefkos. Lefkada is referenced as "Lefki Petri" in Homer's Odyssey, which means "white rock," adding validity to the claim.
Read also: Top 10 nudist beaches of Italy
Doukato Lighthouse
The distinctive lighthouse of the Cape, completed in 1890, is quite close to the site of the ancient temple dedicated to Apollo.
The lighthouse, like the deity himself, functioned as a guardian for mariners, guiding them safely across the sea to land.
The lighthouse is a famous tourist attraction due to its placement on the island's extreme southernmost point. Doukato Lighthouse, with its spectacular views of the sea from the steep promontory, is a beautiful place to watch the sunset.
Visitors may also view the neighboring islands of Ithaki and Kefalonia from its base.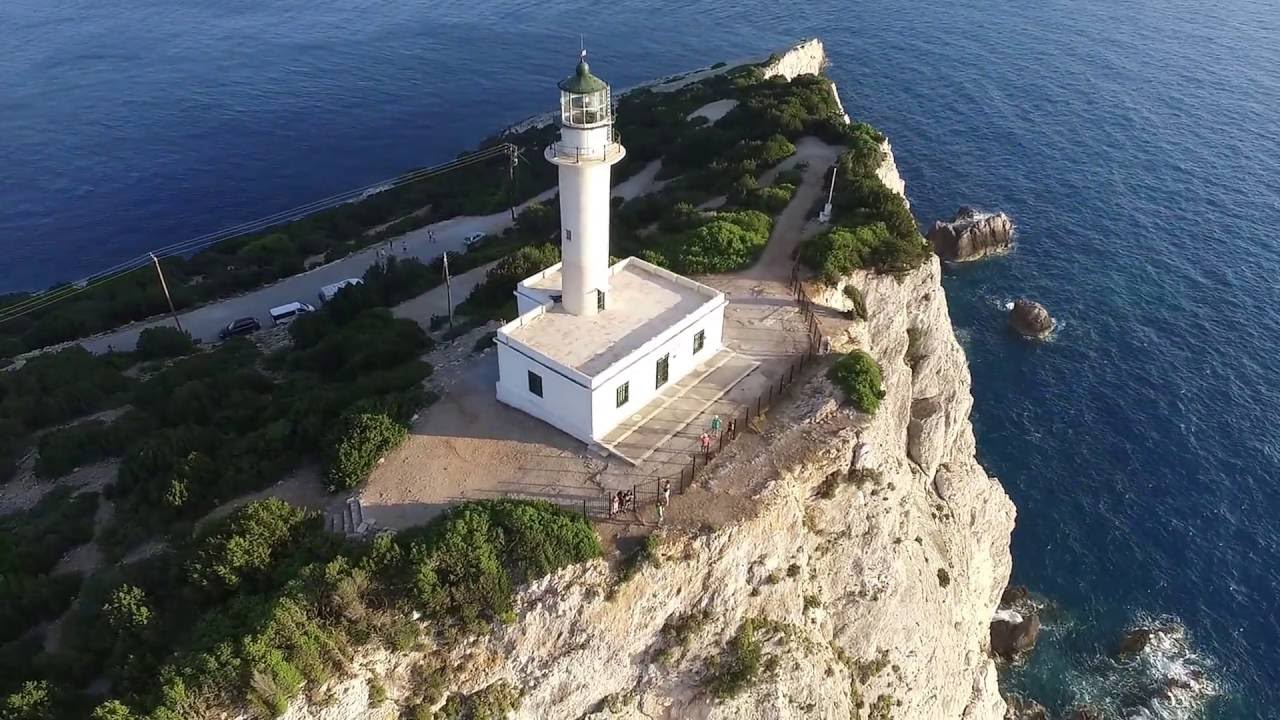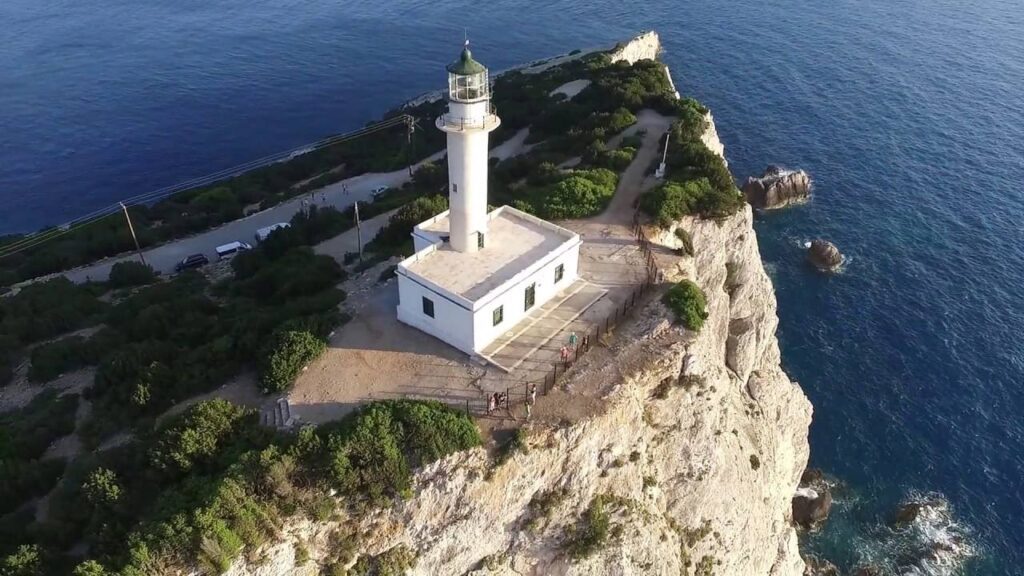 Where to stay in Lefkada and around it
Town of Lefkada
Lefkada Town, located only a few kilometers from Preveza Airport and convenient for public transit, has stunning beaches such as Agios Joannis as well as historic remains such as the Venetian castle of Santa Maura. The advantage of staying in Lefkada town is to experience an appealing but practical environment that is accessible to other parts of the island via taxis and buses.
Nydri
The east coast hub of Nydri is suitable for individuals who appreciate pleasure, hikes, and a dynamic pace. More touristic and therefore suited for young individuals, couples, or groups looking for a vibrant area with always accessible services, a busy nightlife with bars, pubs, and shopping.
Agios Nikitas
Agios Nikitas, a little hamlet in the northwestern part of the island, is suitable for people who prefer to remain near to the sea, with a handy pedestrian area, only a few kilometers from the more hectic Lefkada town, sea and beach ideal as starting places for exploring the whole island.
Vasiliki
It is great for families searching for water and peaceful locations to spend their holidays with their children, as well as a well-equipped beach and nearby facilities. Staying in Vasiliki also allows you to easily access the adjacent beach of Sivota, which is ideal for children of all ages and has modest souvenir shops and a lovely, relaxing environment.
Types of accommodation in Lefkada
Staying in Lefkada is inexpensive and convenient, whether in flats, holiday houses, or hotels. There are traditional Greek lodgings, such as white-painted flats with little blue balconies, hotels situated in the lush hinterland, and huge villas with all the amenities. Apartments in Lefkada may be found on both sides of the island's shore, or you can stay in one of the more interior places, such as Karya, which provides a more hilly scenery but are still near to the sea and the island's main attractions. In addition to apartments, you may book studios, which are modest flats that sleep two to a maximum of six people, are self-contained, include a small kitchen or kitchenette, are generally family-run, and are widely accessible around the island. You will have various options for lodging in Lefkada in each of the major towns where you choose to stay:
Apartments: small houses in the urban centers of the island, equipped with every comfort, for an economical stay in complete freedom.
Studios: studios or two-room apartments, often located in small residences.
Villas: ideal for families or large groups, they are often located along the coast or more sheltered inland, offering a relaxing and comfortable stay.
Hotels: many on the different coasts of the island, with modern or characteristic facilities, meet every budget requirement.