One of the best experience is the hot air balloon in Tanzania, Serengeti for the sunrise.
Imagine quietly gliding over the Serengeti grasslands, just above the tree line, and looking down on the creatures below. When visiting Serengeti National Park, this is a must-do activity for every safari enthusiast.
Overview.
Fly over the Serengeti National Park's huge grasslands on this thrilling hot-air balloon excursion. Join a small party and take to the skies early in the morning for a peaceful flight over the UNESCO-listed park. Several animals, including lions, elephants, zebras, wildebeests, and giraffes, may be seen in the morning when they are most active. After landing, enjoy a sumptuous bush breakfast in the heart of the Serengeti.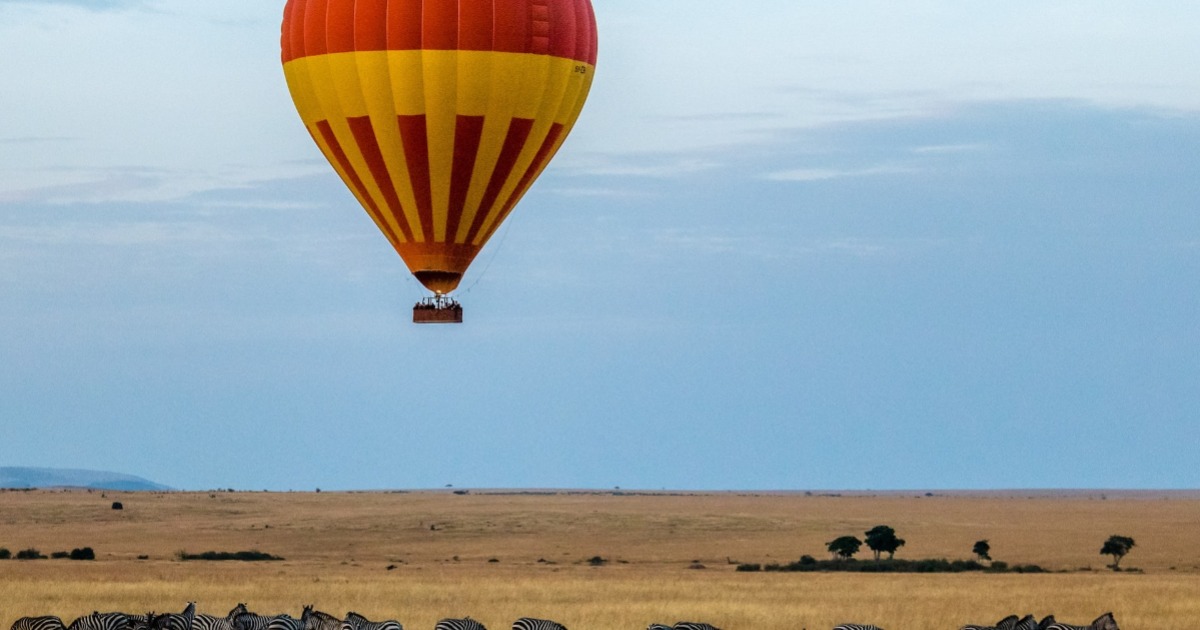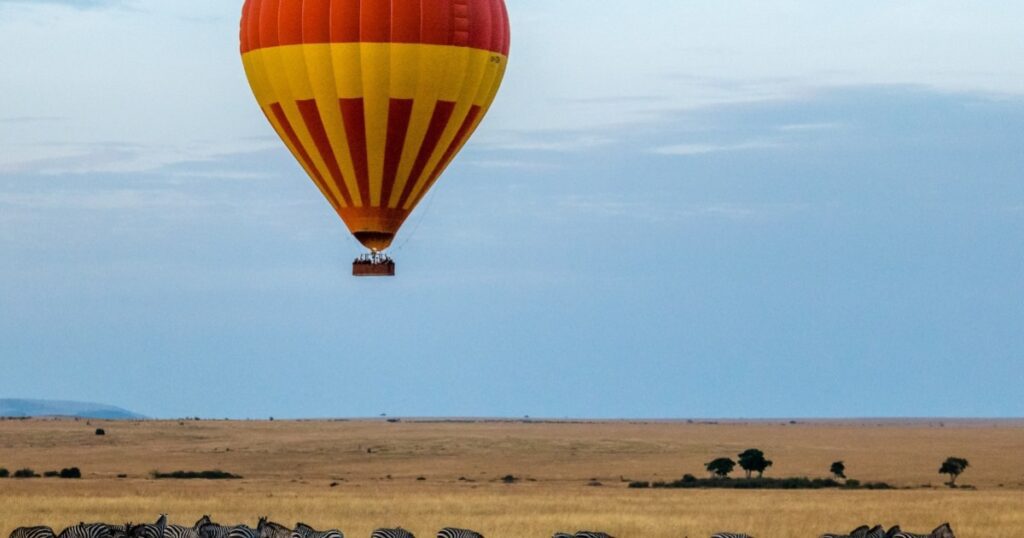 Toast the occasion with a Champagne toast at breakfast.
Round-trip transportation is available from chosen campgrounds and resorts.
A small group offers more one-on-one time with your guide.
Check out availability online.
For a secure reservation, we recommend you book online at Viator, press below: 👇
Locations for Balloon Safaris in the Serengeti.
One launch location is available year-round in Seronera, while others are available in the Ndutu region (from 25 December to 15 March), in the Western Corridor (from June to October), and in northern Serengeti. All balloon flights take off at 06h00 (from July to October).
Experience.
A balloon safari is worthwhile even if it is not inexpensive. Floating serenely above the trees as the sun rises over the horizon provides a breathtaking vista of the boundless Serengeti grasslands. Because we leave extremely early in the morning, you could see some nocturnal predators getting ready for the day.
Most flights will feature portions flown at a higher height, enabling you to enjoy uninterrupted views of the Serengeti; other sections may entail low-level flying, with the possibility of seeing animals. Highly skilled pilots may follow rivers and streams, gliding barely meters above grunting hippos or straying giraffes. Flying low enables you to get some amazing aerial wildlife photography. You travel over the plains wherever the wind takes you, while balloon workers in their trucks follow you from the ground.
The Great Migration and Hot Air Ballooning.
The greatest chance of witnessing the Great Migration with its vast herds of wildebeest and zebra is to plan a flight in the Ndutu region, where enormous herds assemble between December and March. The other places may also enable you to witness the Great Migration from above, but keep in mind that the herd is nomadic and may only remain in a given region for a few days, if at all. This implies you'll need some good fortune on your side.
Price of a Serengeti hot air balloon ride.
A Serengeti balloon ride costs $599 per person (with a $40 Tanapa ballooning charge). This price includes transportation from your lodge or camp to the balloon launch location, the balloon flight, and a champagne brunch (after landing). The flight will take anywhere from 50 to 70 minutes. The breakfast site is put up in a different place each day, depending on the landing site. You will be sharing the balloon with up to 16 other people.
Considering a balloon safari?
Prepare yourself for a very early start. The shuttle from the Seronera area departs at 05:30, while the transfer from the other lodges in the vicinity departs at roughly 04:00. Please bring warm clothes as well as a bag to store your camera, binoculars, and other personal stuff. We can organize departures for a Serengeti balloon safari from most Serengeti hotels and camps. We highly advise reserving a balloon safari in advance since it is an extremely popular activity that sells out quickly (especially during peak season).
What if the weather isn't cooperating?
Ballooning is dependent on good weather. If your flight is canceled due to inclement weather, you will be rescheduled on a later flight. If at all possible, your money will be reimbursed.
Why is a balloon safari so costly?
Balloon flights are costly to conduct, particularly in isolated regions like the Serengeti National Park. Balloons, by definition, must be in excellent condition, hence they must be changed after around 850 flying hours. A single balloon costs more than $100,000 USD. The cost of fuel and staff to conduct the balloon trip must also be considered. Each crew is made up of six individuals and a professional pilot. Behind the scenes, 10 workers (per balloon) work to make the balloon fly. This adds up to a sizable number of people. There are also recovery trucks, transfer vehicles, and backup operations. Finally, conservation fees account for a significant portion of the entire cost.
Check out an 8 days Tanzania safari.
Safari includes.
Pick-up and transport from a variety of Serengeti lodges and camps.
Ballooning above the Serengeti.
Champagne Reception.
A bush breakfast in the Serengeti.
Safari Balloon Flight.
Safari Excludes.
Certificate The park admission charge is not included for Camps and Lodges located outside of the National Park.
Time to begin:
5 am.
Pickup information.
For the hot air balloon in Tanzania, we pick up from all Serengeti camps and lodges within a reasonable distance of our launch places.
Safari itinerary.
Stop at Seronera:
365 DAYS A YEAR Seronera is a year-round game-viewing destination, with significant populations of bovids and predators that linger long after the stunning hordes of blue wildebeests and zebras have gone. The limitless variation of topography explains the range of species observed from the air during a Serengeti Central Safari.
Stop at HTMZ – Kogatende Airstrip:
FROM JUNE TO NOVEMBER The historic Mara River crossing starts in June and ends in November. It is regarded as the ultimate crossing as the herds make their way to this location where the water is dependable and the grass is abundant.
Kirawira: FROM MAY TO JULY Some of the wildebeest will have arrived and camped near the Grumeti River in Kirawira – the Serengeti's Western Corridor – by June. The migration is paused or hindered at this point due to the difficulty of crossing the river's channels.
Stop at Ndutu Lake:
FROM DECEMBER TO MARCH The migratory herds return to the nutrient-rich Ndutu short grass plains for calving between December and March. A sky safari is the ideal venue to watch one of nature's most breathtaking displays.
Stop at Tarangire National Park:
ALL YEAR LONG ON THE NORTHERN CIRCUIT Enjoy a peaceful morning flight above this magnificent park, looking down on idealistic baobab trees that reach up to 100 feet in height. You could even see some indescribably stunning leopards and elephant herds as you fly above Tarangire. Overall, the best of the hot air balloon in Tanzania is the sunrise.
Additional information.
When you book, you will get confirmation.
Wheelchair access is not available.
It is not suggested for tourists who have back difficulties.
Pregnant women should avoid traveling.
There are no heart issues or any major medical disorders.
Most tourists are able to participate.
There will be a maximum of 16 people on this tour/activity.
Check out availability.
Related Safaris.