Arezzo is a lovely city in Tuscany, Italy, with a rich history and culture. It's a city that many travelers ignore, but those that do there are never disappointed. Arezzo is a city worth visiting because of its gorgeous architecture, delectable food, and scenic scenery. Yet, determining the optimal time to visit might be difficult. We'll help you understand the varied seasons in Arezzo and identify the ideal time to visit with this post.
There is always a good time to visit Arezzo, whether you want to learn about its rich history, admire its stunning architecture, or indulge in its delectable food. Each season has its own distinct appeal, and we'll advise you on the ideal time to come depending on your interests. From the delights of spring to the allure of fall, we'll ensure you get a genuine experience while avoiding the crowds. Now, take a seat, relax, and let's look at the best time to visit Arezzo.
Exploring Arezzo's Rich History and Culture
Arezzo's history and culture are very intriguing, with centuries-old structures and customs still in use today. Arezzo's rich history and culture are best explored during the month of September when the city celebrates its famed Giostra del Saracino festival. This medieval jousting contest has been held for generations and exemplifies the city's deep-rooted traditions.
The city comes alive with colorful parades, music, and dancing during this time, as residents and tourists alike converge to witness the event. The tournament itself consists of knights on horseback dressed in medieval garb jousting with lances at a target resembling a Saracen warrior. This festival is a terrific chance to get a personal look at the city's history and culture, and it should not be missed by anybody interested in medieval history and pageantry.
Read also: Uncovering Facts About Arezzo, Italy
The Beauty of Arezzo's Architecture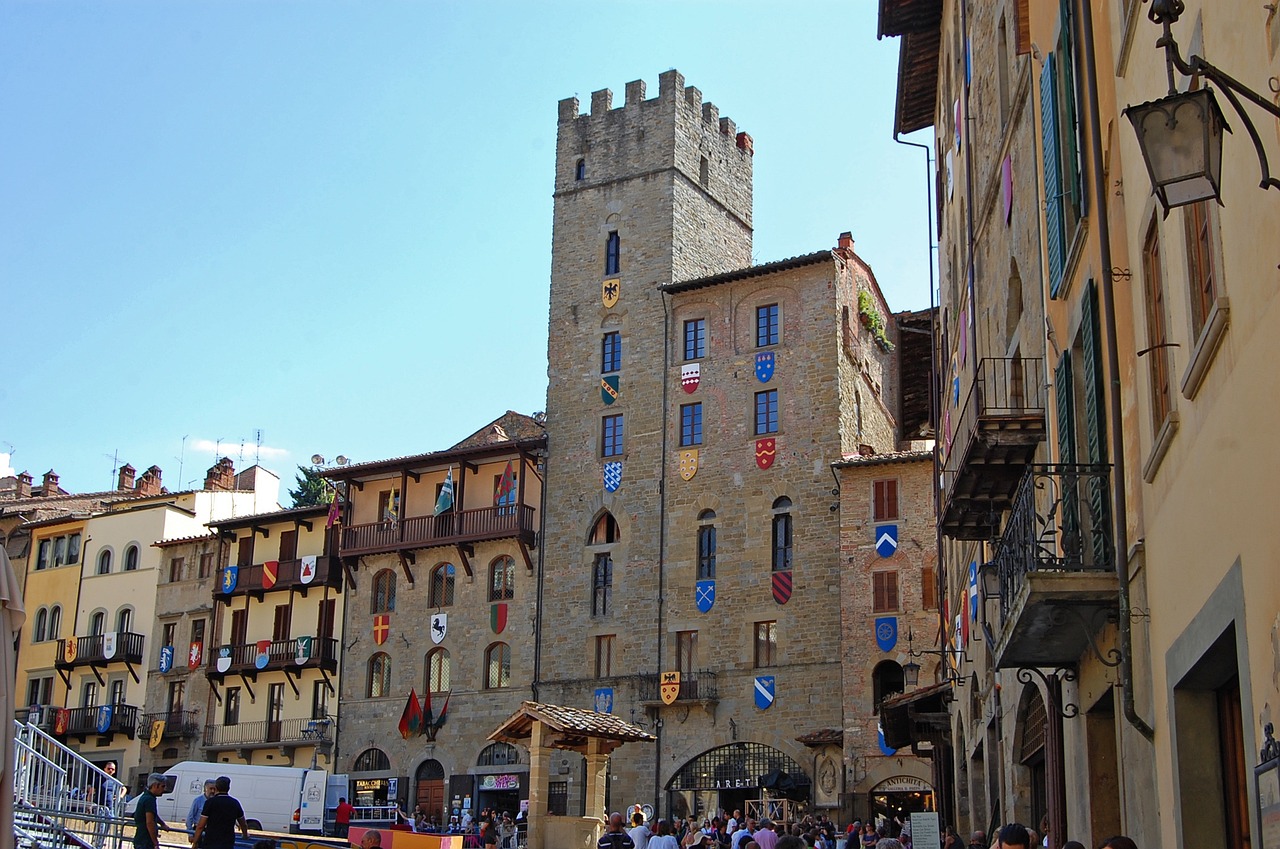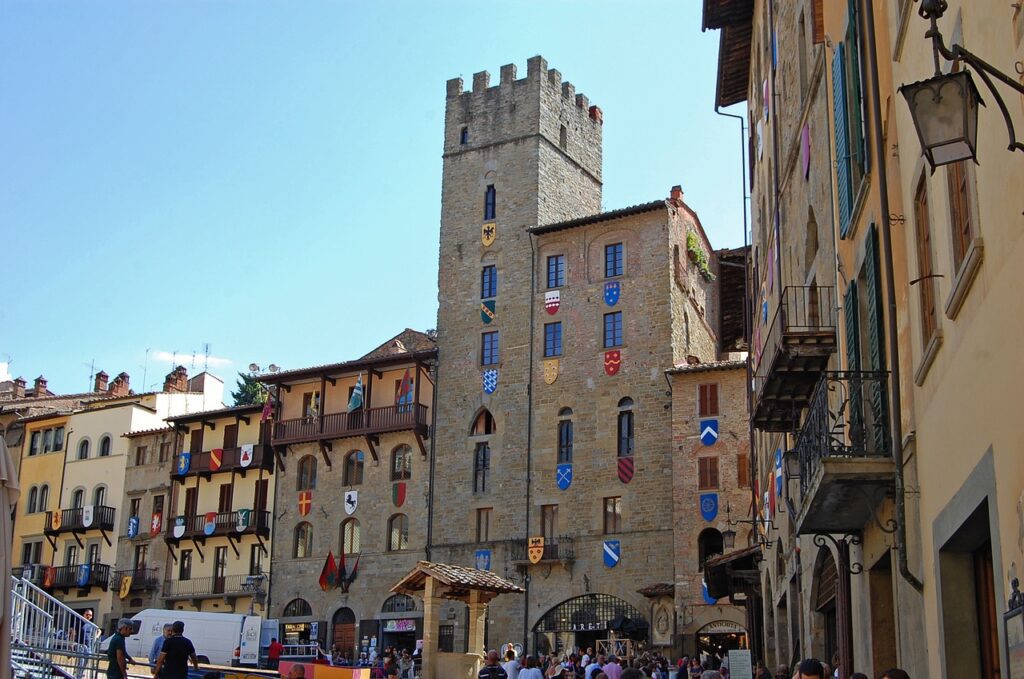 The delicate features and rich history built into the construction of this Tuscan jewel will wow you. Arezzo is home to some of the most beautiful buildings and monuments in Italy, each with its own narrative to tell. Consider the famed Cathedral of Arezzo, which originates from the 13th century and has a combination of Gothic and Romanesque styles. The complex exterior, embellished with sculptures and reliefs, is a classic Italian art masterpiece.
The Palazzo della Fraternita dei Laici, a splendid Renaissance edifice that functioned as a gathering place for laymen throughout the Middle Ages, is another remarkable example of Arezzo's architecture. It's easy to understand why this structure has become one of Arezzo's most distinctive icons, with its beautiful exterior and massive entryway. You won't want to miss the chance to discover Arezzo's spectacular architecture, whether you're an architectural aficionado or just admire the beauty of old structures.
Springtime in Arezzo: A Delightful Experience
With its moderate temperatures and beautiful flowers, springtime in Arezzo is absolutely wonderful. The city comes alive with a plethora of colors and smells, making it a perfect time to discover its splendor. The pleasant weather and calm wind add to the pleasure of strolling around the streets and enjoying the architecture.
Apart from the scenic appeal, springtime in Arezzo provides a range of cultural opportunities. Many events are held in the city during this season, including the famed Saracen Joust in June. Guests may see the medieval-style jousting contest and enjoy the event's colorful atmosphere. Overall, spring is an excellent season to visit Arezzo if you want to combine natural beauty with cultural events.
Fall in Love with Arezzo's Autumn Charm
Autumn in Arezzo urges you to immerse yourself in its wonderful ambiance as the leaves begin to turn and the air gets crisp. The ancient core of the city is covered with autumn leaves, producing a stunning landscape that will take your breath away. The weather is ideal for strolling around the streets, enjoying the architecture, and stopping at one of the local cafés for a warm beverage.
Moreover, fall is a great season for foodies to sample the local cuisine. Arezzo is famous for its delectable truffles, which are in season at this time of year. You may also try the famed Chianina meat while sipping a glass of Tuscan wine. The city comes alive during the harvest season with gastronomic festivals, providing a unique chance to explore local culture and customs. In conclusion, an autumn visit to Arezzo is a unique experience that should not be missed.
Read also: The Ultimate Arezzo Travel Guide – The Medieval City
Avoiding Crowds and Enjoying an Authentic Experience
Consider going off the beaten road and visiting Arezzo's lesser-known areas and hidden jewels to completely immerse yourself in the local culture. Although the city is a famous tourist destination, traveling during the shoulder seasons of spring and autumn will allow you to escape the throng. The weather is still good at these times, but the number of visitors is substantially decreased, enabling you to enjoy the city in a more genuine manner.
Visiting the local markets is one way to get a taste of the genuine Arezzo. The Saturday market at Piazza Sant'Agostino is an excellent starting point. Anything from fresh food and local cheeses to homemade crafts and clothes may be found here. It's a terrific way to meet the people and learn about the city's cuisines and customs. Taking a cooking lesson or a wine tour is another opportunity to escape crowds and discover the true Arezzo. These activities enable you to learn about local food and wines while also meeting people and experiencing their way of life.
FAQ
What are the best hiking trails near Arezzo?
Some of the best hiking trails near Arezzo include the Monte Falterona and Campigna National Park, the Casentino Forest National Park, and the Pratomagno mountain range. These trails offer stunning scenery and challenging terrain.
Are there any local festivals or events that take place in Arezzo throughout the year?
There are several festivals and events held in Arezzo throughout the year, including the Giostra del Saracino in June and September, the Arezzo Wave Festival in July, and the Antiques Fair in October.
What are the best day trips to take from Arezzo?
Discover the stunning Tuscan countryside with day trips from Arezzo. Explore the medieval city of Siena, taste wine in the Chianti region, or visit the Renaissance town of Florence. Don't miss the charming hilltop village of Cortona.
What is the nightlife like in Arezzo?
The nightlife in Arezzo is lively and exciting, with plenty of bars, clubs, and restaurants to choose from. You can enjoy live music, dancing, and drinks late into the night.
What traditional dishes should I try while visiting Arezzo?
To fully experience the local cuisine of Arezzo, try traditional dishes like Ribollita soup, Tagliatelle pasta with Porcini mushrooms, and Bistecca Alla Fiorentina. These dishes are a must-try for any foodie visiting the area.
Conclusion
Finally, Arezzo is a hidden treasure in Tuscany that deserves to be discovered. The city has a rich history and culture, as well as breathtaking architecture that will take your breath away. Although the best time to visit Arezzo depends on personal interests, spring, and fall provide distinct experiences that should not be missed. Spring delivers blossoming flowers and nice weather, while fall highlights the city's picturesque foliage. Visitors may completely immerse themselves in everything that Arezzo has to offer by avoiding the throng and searching for a genuine experience. So pack your luggage and get ready for an unforgettable trip to this charming Italian city.