These are the greatest resorts in Marrakech for the ideal holiday.
Morocco's beautiful bohemian city shines brighter than ever, and there are a plethora of wonderful locations to stay. The city is well-known for its riads, which are traditional residences centered on a central courtyard, as well as its marble grand-dame hotels. Marrakech has a bevy of big-name hotels, such as The Oberoi, Four Seasons, and Mandarin Oriental, as well as smaller, independently owned hangouts that provide a distinct viewpoint on the city. These are our favorite hotels in Marrakech, in no particular order, ranging from royal palaces to arty riads that host local creatives for months on end.
Notice
Every editorial product is chosen independently, while we may be rewarded or earn an affiliate commission if you purchase anything after clicking on one of our links. The ratings and pricing are correct, and the goods were in stock at the time of publishing. This is at no extra cost to you!
1. The Source.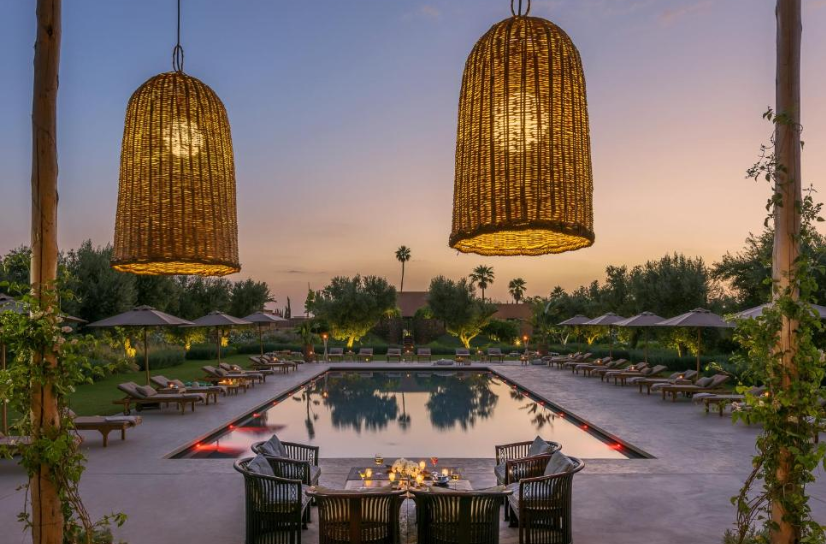 This cool and welcoming hotel is nestled away on five acres off the sandy road to Orika. Laurent Cohen, the music-loving French proprietor, came up with the rock-star motif, which includes a recording studio (with in-house specialists) and every possible instrument to experiment with. The rooms are inventive and exciting, with a trendy combination of handmade furnishings (including two villas with private pools and an air-conditioned Berber tent).
The baroque, scarlet-walled Rolling Stones suite; the Jimi Hendrix room with a four-poster and a bath concealed behind a latticed wooden mashrabiya; the bright silver Backstage artist's lodge; and even the powder-pink Pompadour room are all unique. All of this may seem extravagant, yet it is lovely and pleasantly easygoing. The pleasant vibes continue in the white-on-white spa, where treatments like the Sound of Silence (which uses resonating Tibetan bowls) and the Forever Young are available (an anti-ageing massage with argan oil and prickly-pear essences). Soups, Moroccan salads, and chicken and lamb tagines are served in the garden restaurant, which is flanked by citrus trees. Fresh fruit skewers and honey pastries are served for dessert. If you can drag yourself away from the pool (where local musicians perform at sunset) or the breathtaking vistas of the snow-capped Atlas Mountains, Marrakech is just a 20-minute drive away. This would be one of the top resorts in Marrakech.
2. Kasbah Beldi.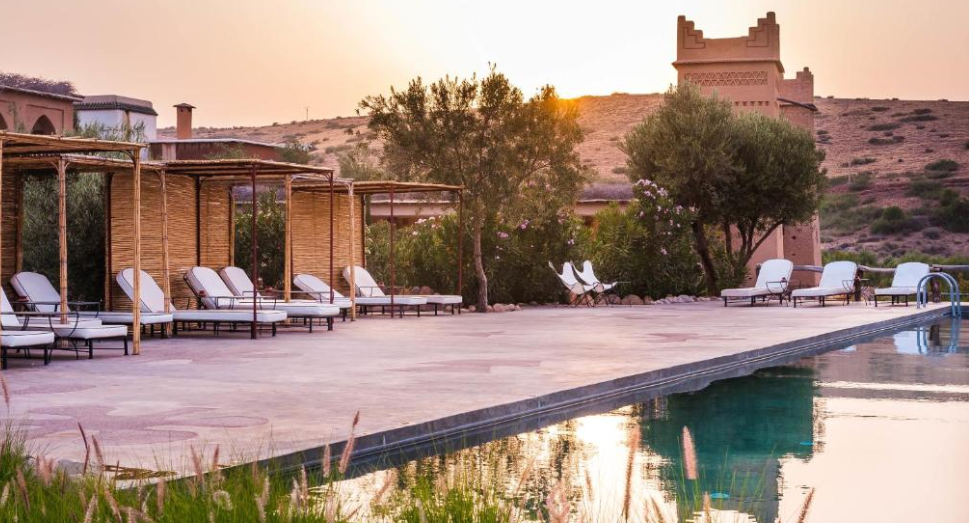 This kasbah, located 50 minutes from Marrakech in the town of Amizmiz, is attractive, but the main treat is its surroundings: a massive green lake flanked by pines, honey-hued Atlas peaks so near you can almost touch them, and the conical form of Toubkal powdered with snow. The Kasbah is the rural brother to the well-established Beldi Country Club in town, and it has been a popular base for lengthy excursions or gaucho-style gallops through the plains since it opened late in 2014.
There are 30 dormitories, two dining rooms, a Berber tent, two swimming pools, and a hammam, all concealed hobbit-style beneath thickets of purple fountain grass. The lodge rooms are the greatest, with floor-to-ceiling windows facing the mountains, allowing you to enjoy breathtaking morning views from your bed. After a day in the bush, relax on one of the Berber rugs spread out under an old holm oak and have a picnic of lemony chicken tagine and chocolate mousse. Sit poolside with a refreshing bottle of Casablanca at sunset and see the water on the lake flash from emerald green to midnight blue – when nighttime arrives, a canopy of stars spreads overhead, undisturbed by city lights.
Also read: Best 12 restaurants in Marrakech
3. Riad Goloboy.
Beatrice Faujas, the creator of this lovely riad, spent some time in the Soviet Union, and its name is derived from the Russian word for blue. She has painted the courtyard a vibrant Majorelle blue to serve as a flashy backdrop for her gallery-worthy art collection, which includes a hot-pink canine sculpture in the foyer and a graffitied splash-back in the rooftop shower. The eight bedrooms are even more seductive, with a dark metallic color scheme.
The Catherine, for example, features aubergine walls, python-skin sofas, and a hand-beaten metal fireplace accent. A headboard for the bed made of creamy, beautifully carved plaster makes a statement. The bar and sitting area are completed in charcoal tadelakt, with flooring embossed with Islamic designs that contrast well with the pastel armchairs and gold velvet banquettes. The furniture was either purchased at auction or custom-ordered, and every single stick is for sale. The property next door will shortly be converted, adding a big pool, spa, and eight additional bedrooms before the end of the year. But for the time being, this is a tranquil little refuge in the center of Sidi Mimoun, which also houses La Mamounia. It's the type of location to mix a low-key weekend with some sightseeing. It's cute and pleasant, with great personnel.
4. Mandarin Oriental Marrakech.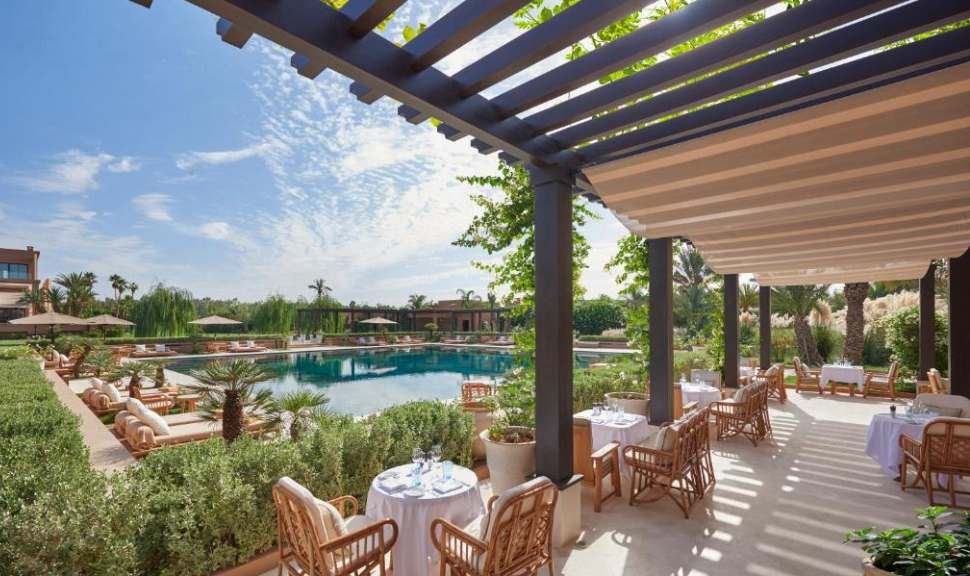 There are 54 profoundly secluded one- and two-bedroom villas here, all with white stone flooring and carved tadelakt walls framed by towering columns (there are also nine first-floor rooms with fabulous Atlas views). The outdoor showers are bamboo-enclosed, while the courtyards feature crackling wood fires and marble hammams in the baths. A journey through the 20-hectare grounds, fragrant with the aroma of 100,000 roses, leads to an immense spa and hammam that unfolds in a sequence of beautiful arches reminiscent of the Mezquita in Córdoba. The Mandarin's attention to hand-crafted touches like this set it apart from the city's more blingy five stars, and there's other meticulously selected things as well, including preparing dinner-party dishes with high-flying chefs and seeing the organic fruit and vegetable farm. When the heat of the day becomes unbearable, retreat to the villa and spend the afternoon dozing on a king-size daybed by the pool. This is a place to float about and indulge in all the extras, from yoga classes to an in-room meal prepared by a private chef.
Aslo read: The top 17 things to do in Marrakech.
5. Four Seasons Marrakech.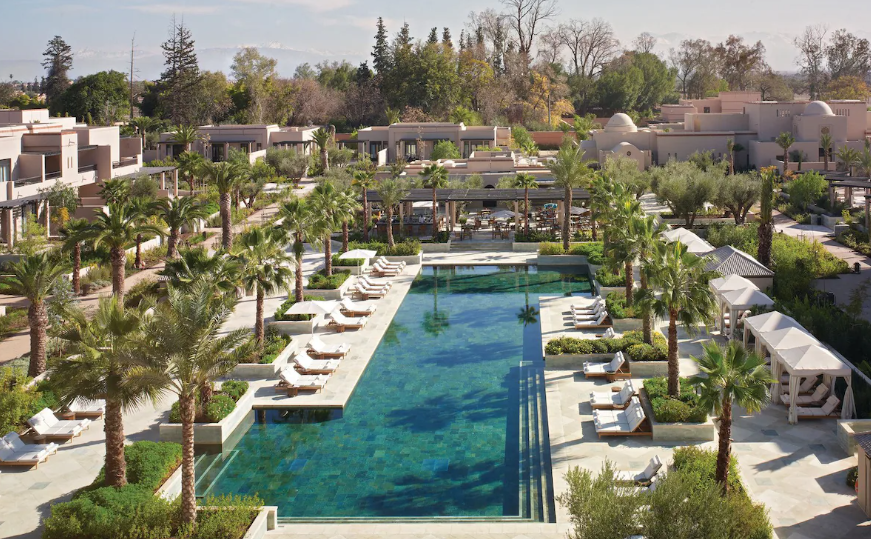 There are more quirky, bohemian places to stay in Marrakech for little travelers. Fawakay Villas, for example, includes a Berber tent in the lawn for sleepouts, whilst the Beldi Country Club is a rustic-chic haven with pottery courses and equestrian lessons. However, for a more moderate introduction to North Africa, the Four Seasons is one of the Resorts in Marrakech that is secure and dependable while still having a thrillingly high adrenaline level.
When you arrive, there are silver trays of fresh mint tea and little bowls of nuts in the foyer, where children are captivated by the chirping from the enormous white birdcage. The hotel is a shimmering, candlelit spectacular at night, and the guestrooms are perfumed with orange or rose. Children like the ambience and shriek with delight at in-room delights like chocolate brownies, little dressing gowns, mini djellabas (to sleep in), and toy camels. The kids' club can organize anything from belly dance to bread-making, and the personnel seem to be on an exaggerated cartoon high all the time. A warm, shallow pool for children, a basketball net, film screenings, picnics, and activities are all on the menu.
While all of this is going on, parents may escape to the tranquillity of the spa for a real hammam, complete with scream-out-loud cold-water dousings, followed by the most delectable fresh rosemary and geranium tea. Play tennis, take a yoga class, or just relax in the sun. There are two pools: one is an adults-only symmetry dream, while the other is a huge, free-form frenzy of floats, balls, and water bombs. Cabanas give welcome shade, wood-fired pizzas are delicious, and handmade ice cream is enticing.