These are the top restaurants in Marrakech, ranging from gourmet fine dining to the city's numerous lively food booths. Consume wisely!
It's all about the tastes in Marrakech. The Moroccan enchantment is a sensory overload, a burst of sights, smells, and sounds that leave an everlasting impact. Eating often and well is part of the local way of life, and visitors will be swept away by wave after beautiful wave of great food. Marrakech's best eateries must be tried.
After all, eating is one of the most enjoyable activities available here. The restaurants in Marrakech have a distinct feel, making them one of the top attractions in a city brimming with them. Less formal dining will be pleased, with food sellers on every corner selling anything from sugared doughnuts to stewed snails. Are you hungry in Marrakech? You're in for a surprise.
Check out the top 10 resturants in Marrakech.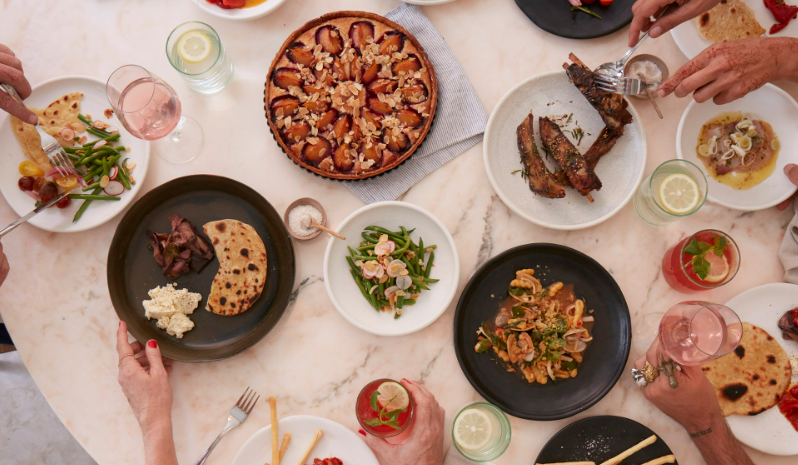 Cassandra Karinsky's bright, contemporary Medi-Moroccan fusion restaurant Plus61 is the trendiest location in Gueliz right now. The chefs emphasized products purchased from the organic market down the street. The end product is basic yet effective. And extremely tasty. The handmade ricotta with roasted red peppers, the spinach and wild herb tart, and the fish of the day with celeriac and artichokes are all must-orders.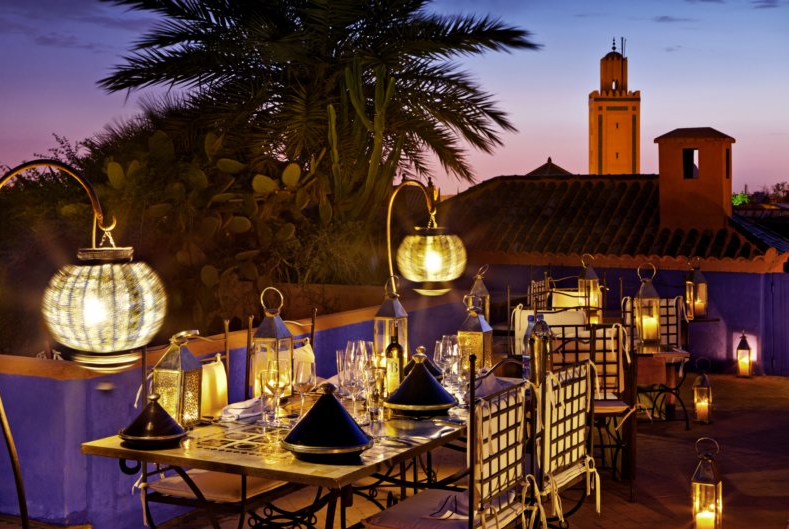 James Wix's vintage Moroccan restaurant's cuisine is influenced by grandma's recipe book. Berkoukesh (handmade pasta with a herb and tomato sauce), tride (shredded pancakes with lentils, chicken, and saffron), and tihane are traditional foods (offal stuffed with spiced kefta, olives and lemons). The sleek, orientalist décor and delicious cocktails, best enjoyed on the roof patio, are relatively new.
Also read: Top 17 things to do in Marrakech.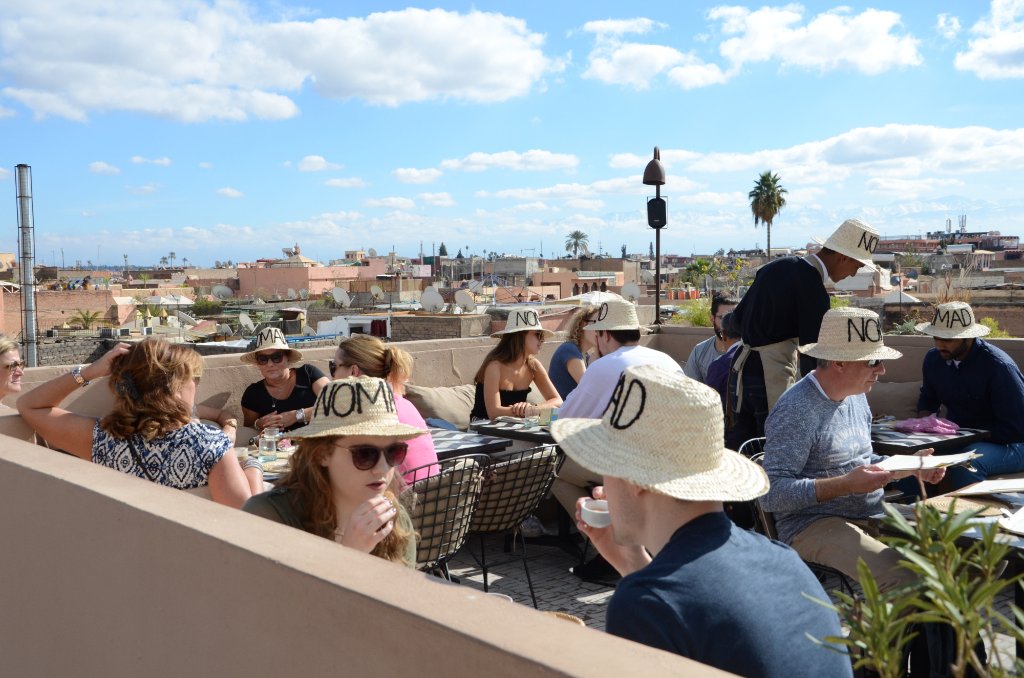 Nomad's soaring rooftop is perhaps one of the buzziest dining restaurants in Marrakech, so book soon if you want to be guaranteed of a spot at sunset. The décor is whimsical and trendy, with colorful woollen couches and rugs harkening back to the building's former past as a carpet store. The cuisine is Mediterranean-inspired, with dishes like cumin-slathered calamari from Agadir, organic chicken marinated in delicious harissa, and crisp cauliflower and fennel salad.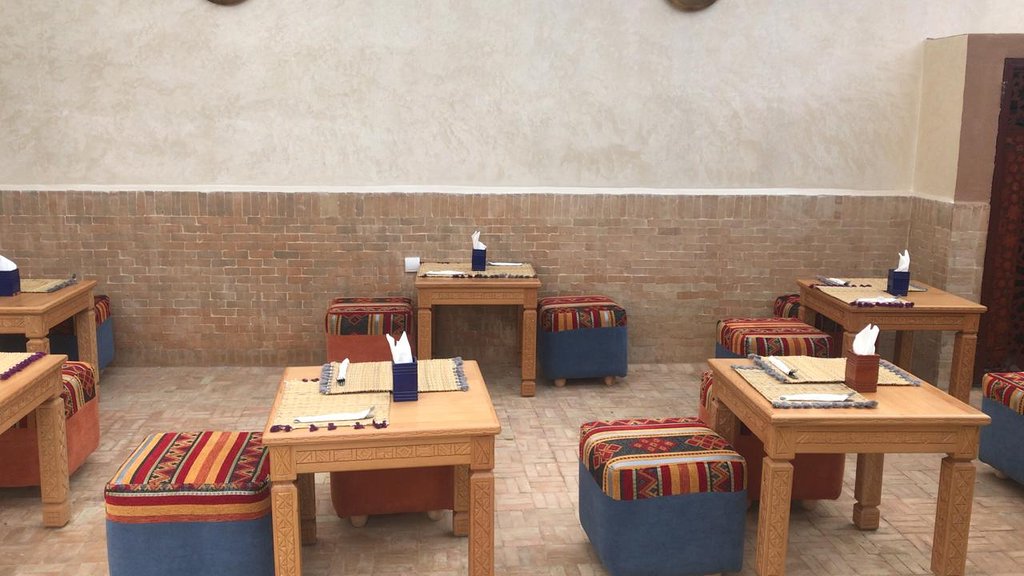 The Amal Centre, a social cooperative that helps and develops underprivileged women, serves the greatest home-cooked supper in Marrakech. Salads with lentils, cauliflower, and leeks are rare, as is a very wonderful fish tagine and a classic Friday couscous. Because the prices are modest and there are crèche facilities, the dining area is a joyful mix of locals and smart tourists.
This chic Lebanese eatery is decked up with khamsa (hand-shaped amulets), stripy fabrics, and hand-cut lanterns and would look right at home in downtown Beirut. The proprietors moved here from Vienna and consider it a source of pride to display the finest of Lebanese cuisine. The kibbeh and chicken salad, as well as the fatet batinjan, are delicious (aubergine covered in spicy mincemeat, yoghurt and pita chips). Vegetarians will appreciate the superb range of mezze and salads. Because the portions are enormous, consider sharing.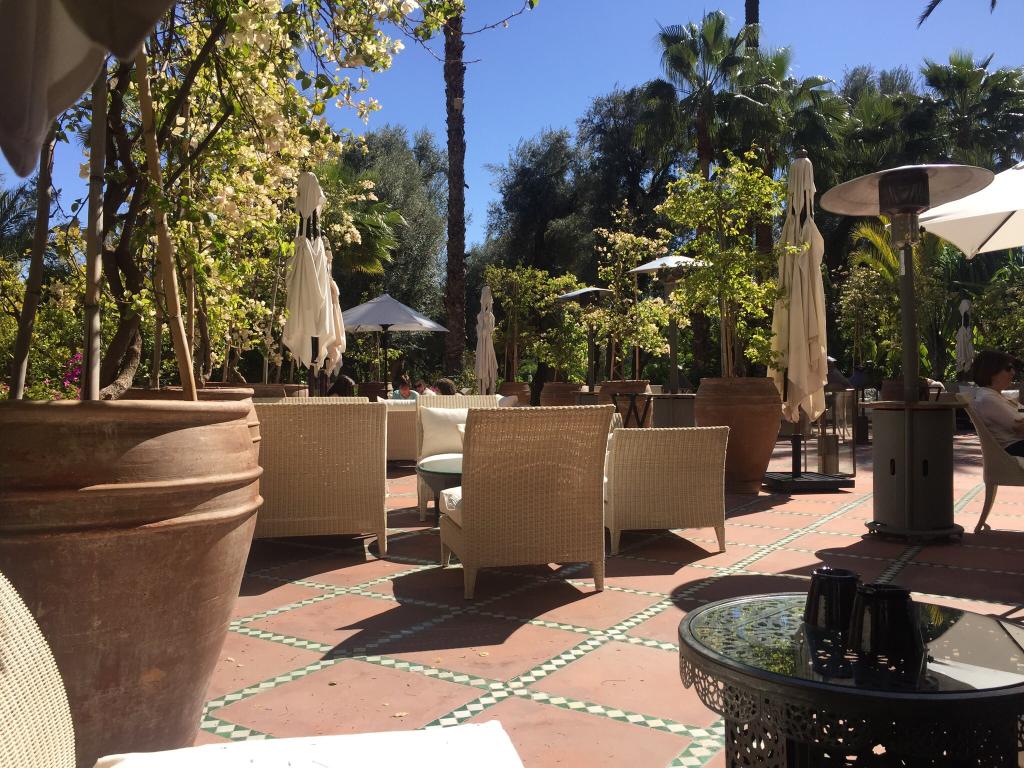 If you want to get a peek of the Marrakchi glitterati, go to La Mamounia's poolside Pavilion restaurant for the lunch buffet or Sunday brunch. The city's elite congregate here, drinking glasses of gris (Moroccan rosé) and fanning themselves under parasols while others swim in the pool. It's not cheap at 1,20 EUR, but the all-you-can-eat buffet features an endless supply of salads, tagines, seafood, roast meats, dips, fresh vegetables, savory and sweet pastries, ice cream, fruit, and dessert. Dress smart-casual or risk being turned away at the door.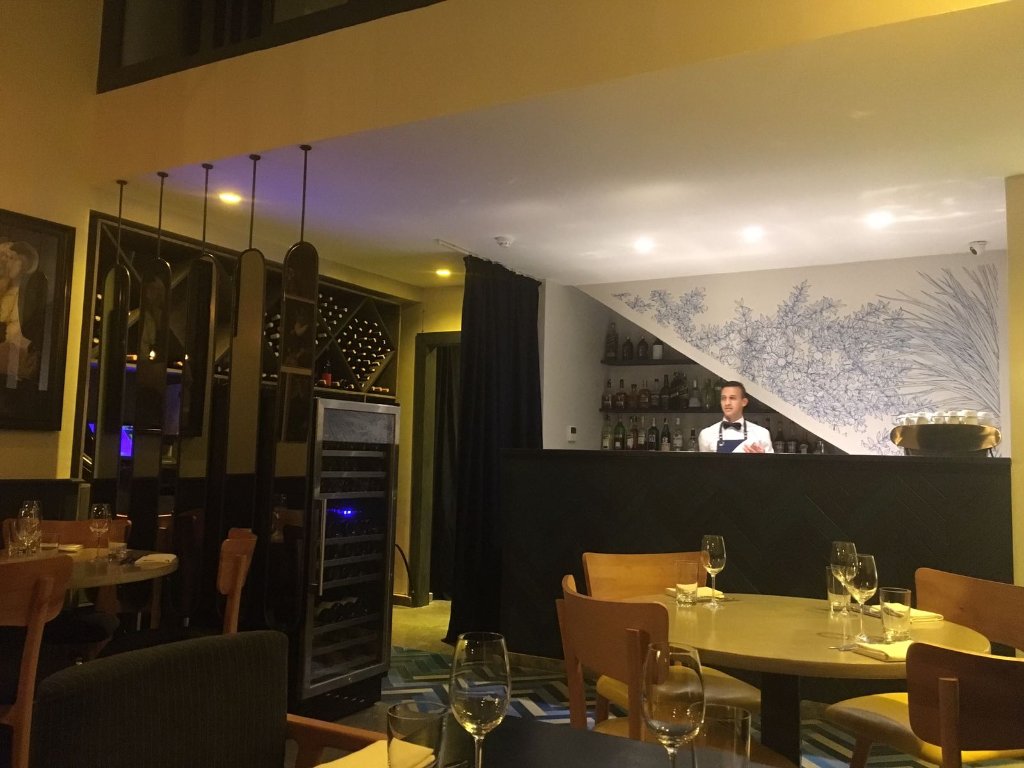 This stylish French cafe is located on a quiet lane in Gueliz, the so-called 'New Town' constructed by the French in the 1920s. Le Petit Cornichon offers a three-course lunch menu with seasonal dishes, as well as an à la carte menu with French classics such as steak with béarnaise sauce, fillet of bream in beurre blanc with courgettes, and rack of lamb with green beans. They also arrange set dinners with wine tastings on occasion; see their Facebook page for more information.
This fantastic traditional eatery is housed in a wonderfully decorated riad deep in the medina's northern outskirts. It was one of the first places in town to provide a multi-course gourmet Moroccan diffa (feast) for a fixed fee, and it hasn't lost any of its luster after 20 years. Aperitifs may be enjoyed on the magnificent roof terrace before settling down for a waist-expanding supper in one of the elaborately adorned salons.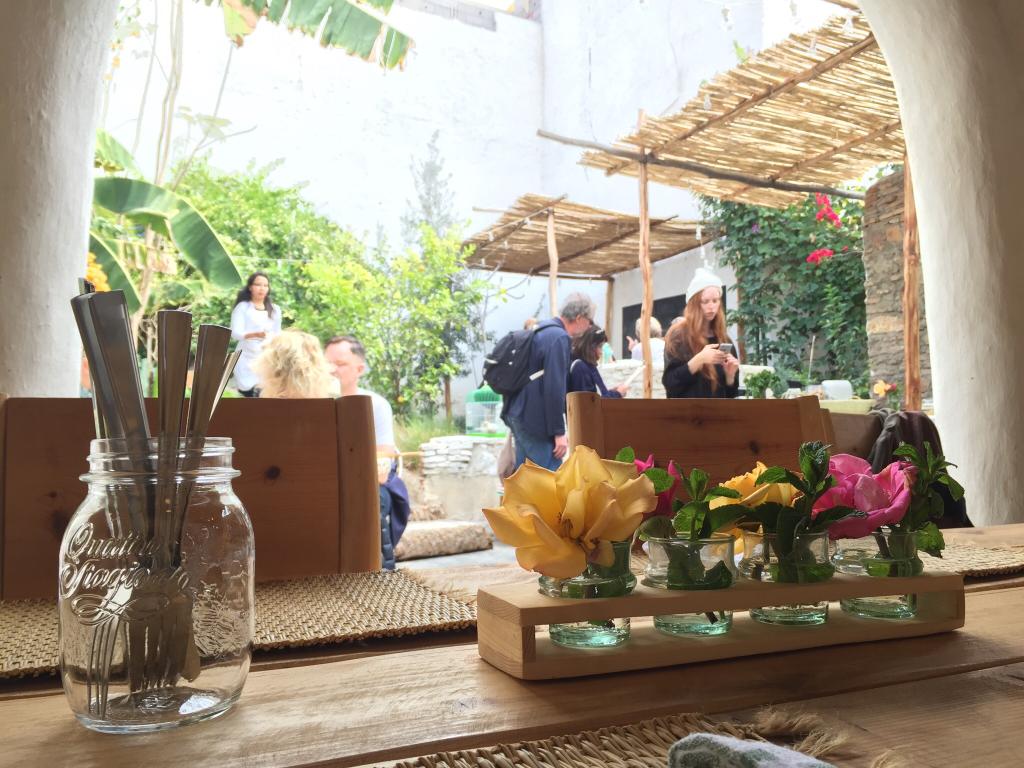 In a shaded medina courtyard, La Famille provides an imaginative vegetarian meal. Take a seat at one of the lopsided lemon-wood tables under the banana tree fronds and consider the day's dips, salads, flatbreads, and quiches. Everything here is light, fresh, and anchored in traditional regional flavors. Consider the couscous with sweet onions, mint, almonds, and dried figs. The handcrafted sweets are likewise wonderful, generally consisting of a seasonal fruit tart, and fresh juices and herb-infused water are provided in place of alcohol.
10. Jemaa el-Fnaa Square:
This gigantic open-air BBQ sprouts up each evening on the Jemaa el-Fna, easily one of the largest, rowdiest, and most popular restaurants in Marrakech in. Around 5 p.m., some 100 stallholders open up business and prepare a wonderfully pongy meat feast of kebabs, tagines, sheep's brains, and skewered hearts. Keep an eye out for clean barbecues and fresh meat, and use bottled water instead of washed utensils. Stall 34 is known for its spicy merguez sausages, while stall 31 is known for its fried potato cake.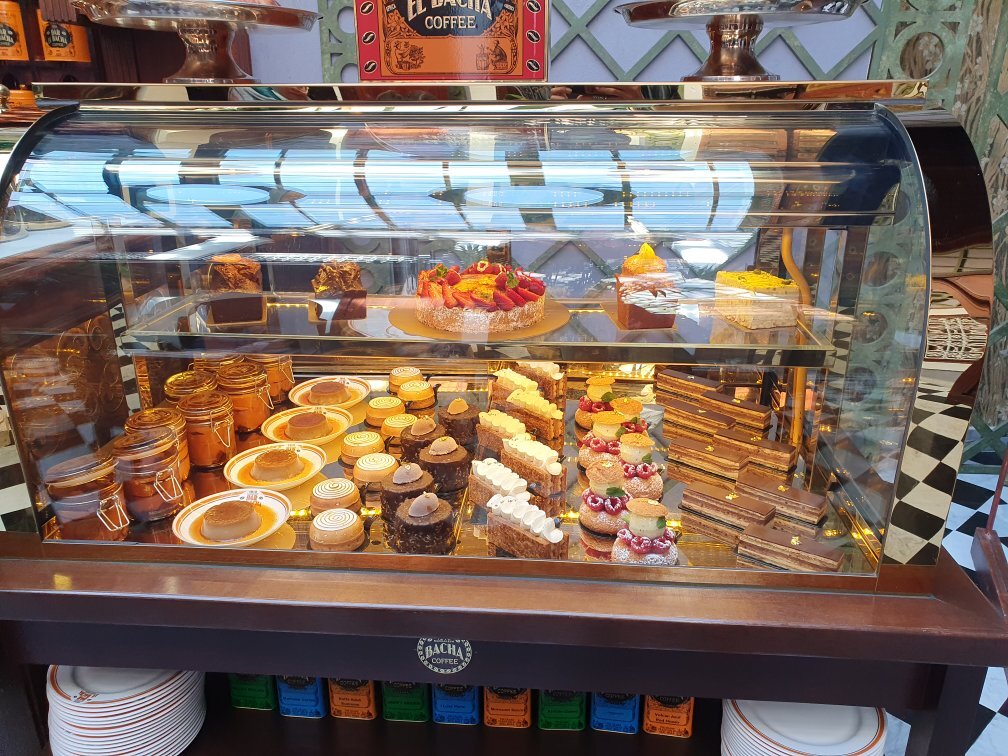 Tucked away in the heart of the fabulous Bacha Palace is this fancy Belle Époque café with velvet tub chairs, chinoiserie wallpaper and giant potted palms. Although the main focus here is on the 200 varieties of single-origin coffee and a vitrine full of dainty Parisian patisserie (courtesy of the former pastry chef at the Mamounia), there's also a decent bistro-style menu serving a mix of French and Moroccan dishes. Think savoury stuffed croissants, cinnamon-spiced chicken pastilla (a layered pastry pie) and barramundi fish tagine.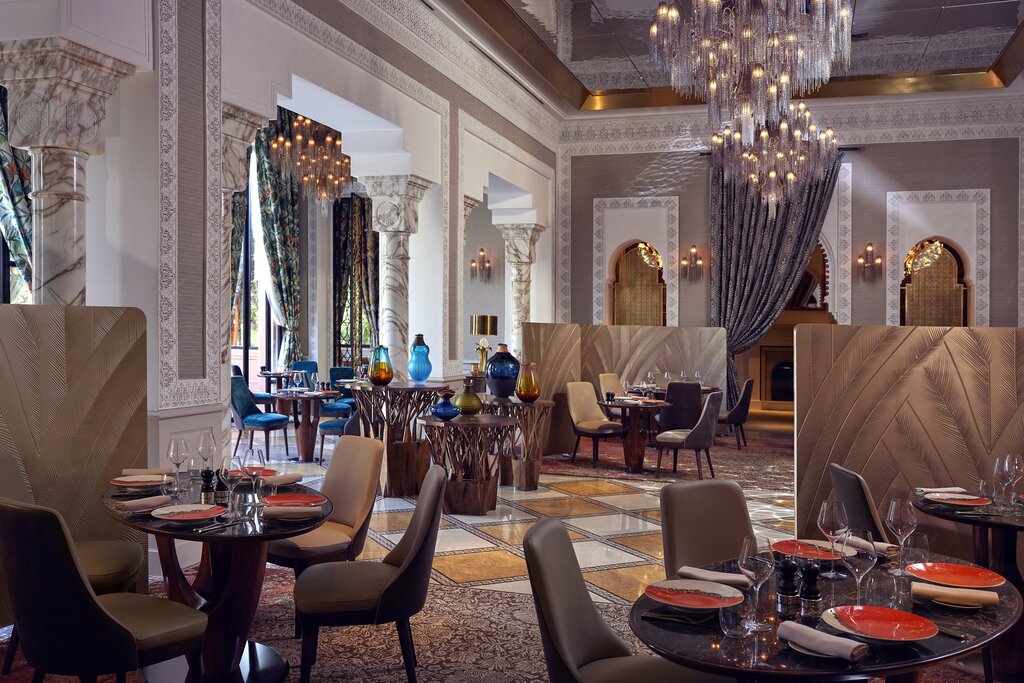 This sumptuous restaurants of the Royal Mansour hotel serves the most sophisticated Moroccan cuisine in Marrakech. The dining area, set in its own lapis-floored riad, is elaborately adorned and staffed by employees in in magnificent traditional garb. From the lobster seffa medfouna (vermicelli sweetened with raisins, almonds, and cinnamon) to the mullet with chermoula (garlic, cumin, and coriander marinade) to the lamb tagine with quince and orange blossom honey, everything on the menu is delicate and delectable.