Costa Rica offers some of the best natural views and experiences in the world, all of which are neatly packed into one country thanks to the nation's diverse landscape. A 7 days tour itinerary in Costa Rica allows you to visit rough jungles, active volcanoes, and world-class beaches. Because about one fourth of the country is protected within national parks, a diverse assortment of animals and plants are able to thrive, making Costa Rica an excellent place to visit for people interested in ecotourism. Within the span of a single week, you will visit all of the top sites that Costa Rica has to offer if you follow this blog by Scributors.
7 days in Costa Rica:
Highlights
Explore Costa Rica's most famous volcano via a variety of activities such as ziplining, hiking, and biking.
Explore the home of the thousands of different species that may be found in Monteverde's cloud forest.
Manuel Antonio National Park is home to some of the world's most beautiful beaches.
Discover the undeveloped shores that surround the Damas Island Estuary.
Overview of the 7 days tour itinerary in Costa Rica
In a space of seven days, this route visits the majority of the most accessible and important ecological places of interest in Costa Rica, most notably the Monteverde Cloud Forest Reserve and the Manuel Antonio National Park. This means that there will be a dense schedule of activities, but because Costa Rica is such a tiny country, travel times within the country will be reduced.
This itinerary is extremely malleable and may be altered to accommodate personal preferences regarding modes of transportation, types of activities, or even the addition of a few more days to allow for a slower-paced and more leisurely exploration of Manuel Antonio National Park. This excursion is an excellent choice for people who take pleasure in being outside.
Itinerary for 7 days tour in Costa Rica:
Day 1: Arriving in San José – La Fortuna
Your vacation to Costa Rica will likely begin in San Jose, the nation's capital and home to one of the country's two international airports. If you just have seven days in Costa Rica, San Jose is not worth visiting. Therefore, it is preferable to rent a car, reserve a shuttle or excursion, or take the local bus to La Fortuna.
Among the activities that are recommended are:
A walk through Mercado Central, the city's biggest market with more than 200 shops, food stands, and traditional restaurants, is a great way to find a cheap lunch of casado, a traditional dish of rice, beans, meat, and tortillas.
Explore the ancient neighborhood of Barrio Amón, which was built in the late 19th and early 20th centuries and is home to homes that were once owned by cafetaleros (coffee growers). As a result of the fact that many of the ancient houses in the area have been transformed into hotels, restaurants, and galleries, this neighborhood is one of the most well-known places in the city to view art-deco mansions and painted tropical Victorian buildings.
Visit the extravagant Teatro Nacional, which was built in the late 19th century in the Neo-Classical style, and take advantage of the free guided tours that are offered every hour. You can also check their schedule to see if they are hosting any musical, theatrical, or dance performances.
The Museo de los Nios is a children's museum that features more than 40 rooms of interactive experiences on a variety of topics, ranging from the inner workings of the human body to the cosmos beyond our solar system. This museum is recommended for younger visitors. Alternatively, you might visit the Spirogyra Butterfly Garden, which is situated in the heart of downtown San José within the city's verdant botanical garden. The children will have a great time observing the butterflies in their natural environment and gaining knowledge about the many types.
Where to have dinner:
Choose a restaurant in the hills of Escaz for dinner. This hilly area on the west side of the city gives you a great view of the valley below. Still, San José is full of great restaurants that serve everything from traditional food to fusion food that is new and different. Read more about our favorite restaurant in San José.
How to get from San José to La Fortuna:
By bus: The public bus to La Fortuna departs from downtown San Jose once daily at 8:40 AM and arrives at 1 PM for a fare of 3,000 CRC (About 5 USD). Consider booking a shuttle directly from the airport if that time does not work for you.
La Fortuna is about three hours by car from San Jose. If you rent a car, you do not need a four-wheel-drive vehicle for this entire route, as the roads between destinations are paved. However, we recommend renting a vehicle with a slightly higher ground clearance to avoid pothole damage.
Day 2: Hot Springs – Arenal Volcano
Welcome to La Fortuna, a town renowned for its breathtaking surroundings and Arenal Volcano. Defintely, one of the highlights of the 7 days tour itinerary in Costa Rica. In the morning, travel to Arenal National Park for a hike along the Arenal 1968 trail near the volcano. In addition, a two-hour walk brings you to a viewpoint from which you can see the volcano.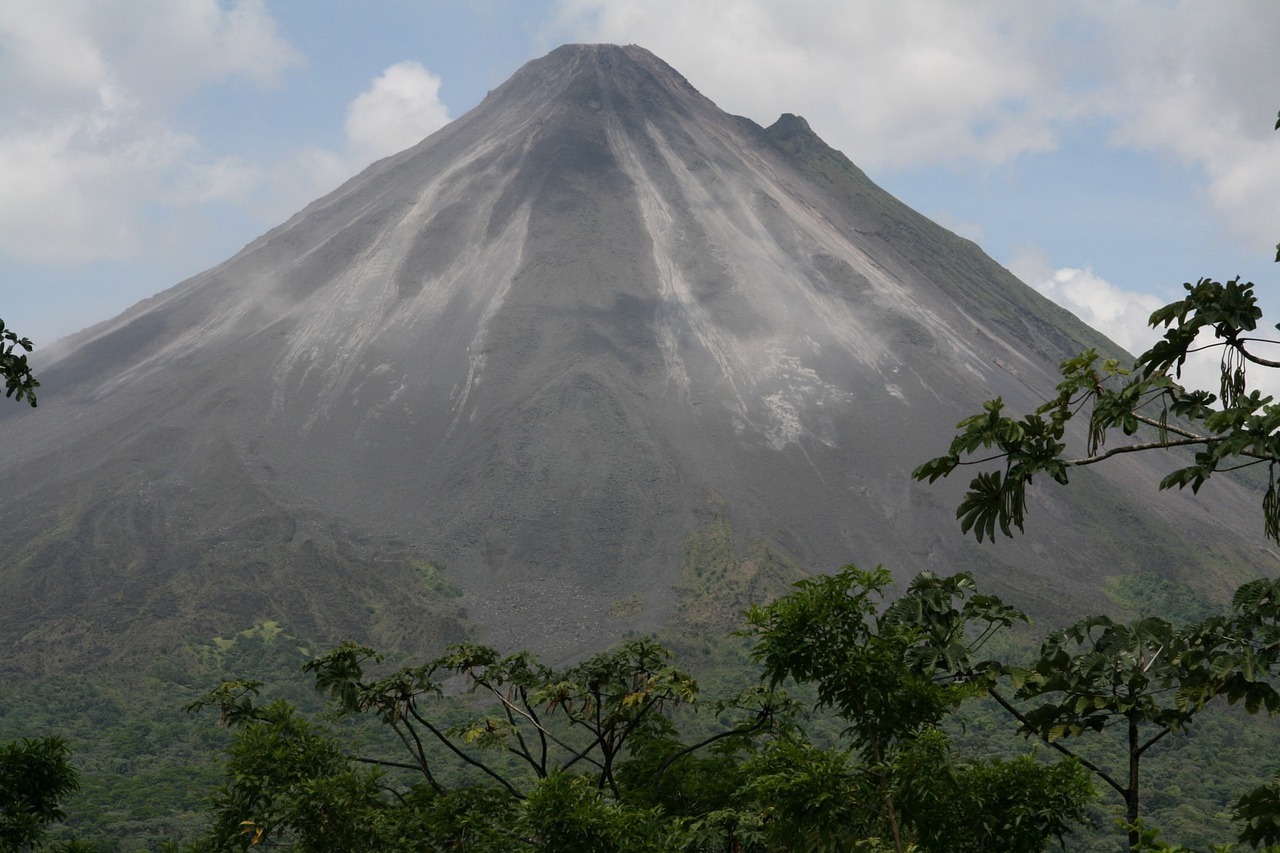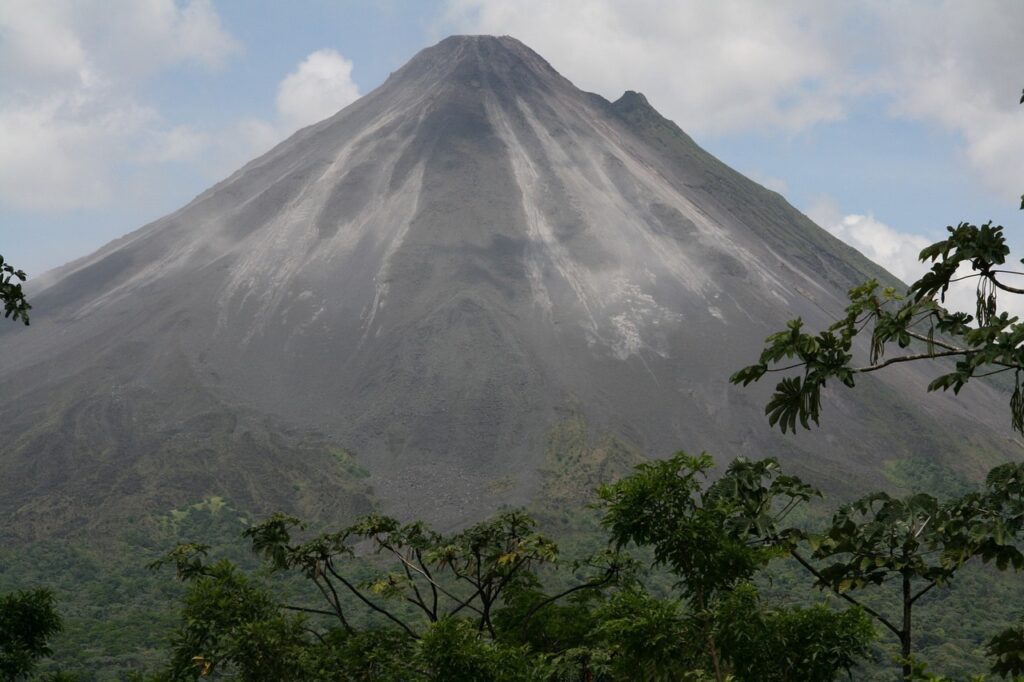 Optional kayaking or stand-up paddleboarding on Lake Arenal affords amazing views of the volcano's peak if you wish to approach it. Or, choose a zip-lining tour through the forest canopy, during which you'll cross canyons, observe the Fortuna and Pino Blanco Waterfalls, as well as the spectacular Arenal Volcano.
Tonight, you will soak in the mineral-rich waters of the region's renowned hot springs, which have been used as therapeutic spas for more than two centuries, and eat a traditional meal adjacent to the hot springs.
Day 3: Arenal and Monteverde
Proceed to the following town named Monteverde. However, first visit the Mistico Arenal Suspension Bridges. These unique hanging bridges are suspended among the rainforest canopy, allowing you to see incredible animals such as sloths and tarantulas. From an incredible height of 45 meters (148 feet), you can cross bridges and gaze down upon a breathtaking forest, rivers, and a waterfall!
How to travel between La Fortuna and Monteverde:
By car:
There is a national park between La Fortuna and Monteverde, so despite the proximity of the two villages, you must drive around Lake Arenal to reach Monteverde. Fortunately, it is a three-hour drive that is absolutely breathtaking. The roads around the lake to Santa Elena (the town of Monteverde) are all paved, but a slightly more powerful vehicle is recommended for the steep hills and to avoid damage from potholes (a 44 is not required to visit Monteverde).
By bus:
From La Fortuna to Monteverde, there are buses that take approximately 7-8 hours. In addition, you cannot visit Mistisco while traveling by bus. Alternately, you could take a shared shuttle van.
Day 4: Explore Monteverde Cloud Forest
On the 4th day of the 7 days tour itinerary in Costa Rica, wake up early and take a guided tour of the Monteverde Cloud Forest Biological Reserve, a unique tropical ecosystem and one of the most biodiverse places in the world. Trek through acres of virgin forests and you might see rare animals like quetzal birds, amphibians, three-wattled bellbirds, sloths, and monkeys. Bring a light extra layer, as the high temperature each day is usually in the mid-60s (F). Also, it rains often and a lot in the forest, especially in the summer, so rain gear and hiking gear are also highly recommended.
In the afternoon, you can keep exploring the park by doing things like watching birds or hiking. You can also visit local coffee, chocolate, or sugarcane plantations, or look for the beautiful Butterfly Garden or Orchid Garden.
Day 5: Monteverde – Manuel Antonio National Park
Explore Monteverde in the morning to see any things you still want to see before hitting the road around lunchtime.
You can drive around 3.5 hours to Manuel Antonio National Park on Costa Rica's Pacific coast, where you can relax on any of the park's four stunning beaches. If that isn't enough excitement for you, you can also go hiking on one of the park's numerous defined trails and see capuchin monkeys, sloths, and over 200 species of birds up close. In addition to swimming, snorkeling may be enjoyed at a number of different beach locations.
Go to Quepos for a sunset meal of seafood and beverages.
How to Get to Manuel Antonio From Monteverde
By car:
Monteverde to Manuel Antonio is a four-hour drive, the longest of this seven-day Costa Rica itinerary. However, all the roads are in good condition, so you won't need a 44 vehicle. Make a quick stop at the famous Crocodile Bridge, where you may spot crocodiles, halfway through the journey. Please do not purchase any meat from the vendors, as animal feeding is a poor example of wildlife tourism. Additionally, it is illegal to feed animals in Costa Rica.
By bus:
There is no direct bus service between Monteverde and Manuel Antonio. Take the Santa Elena (Manuel Antonio) to Puntarenas bus, then transfer to the Quepos bus. Change buses in Quepos for Manuel Antonio. The entire trip will take approximately 6 to 8 hours and should cost approximately 10 USD.
Day 6: discovernig Damas Island Estuary
One of the best tours in the area takes you to the mangroves and estuary of Damas Island first thing in the morning. There are hundreds of different kinds of amphibians, reptiles, birds, and mammals that live in the mangroves because of the root structure that extends below the sea. As you explore the tidal environment, you will have to make your way through the tunnels and passageways formed by the river's tides.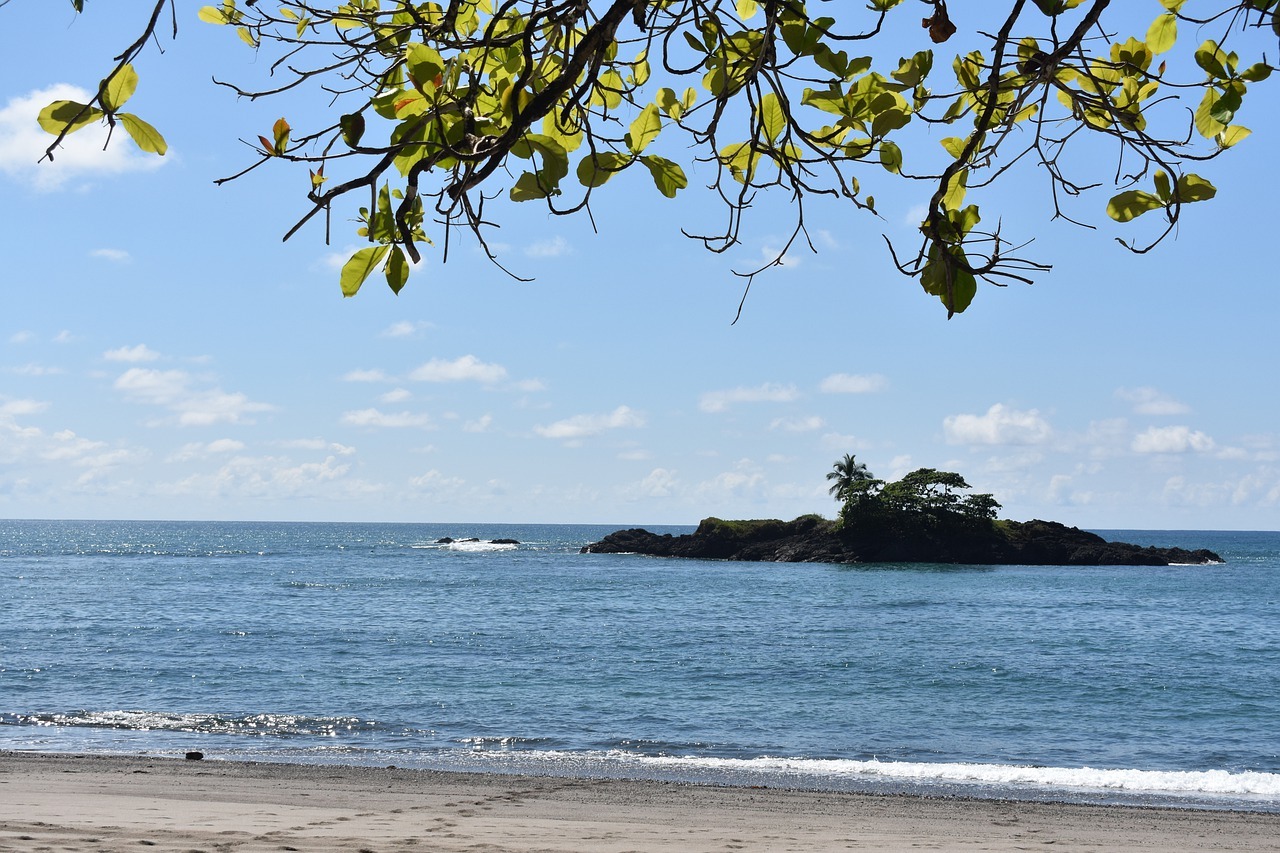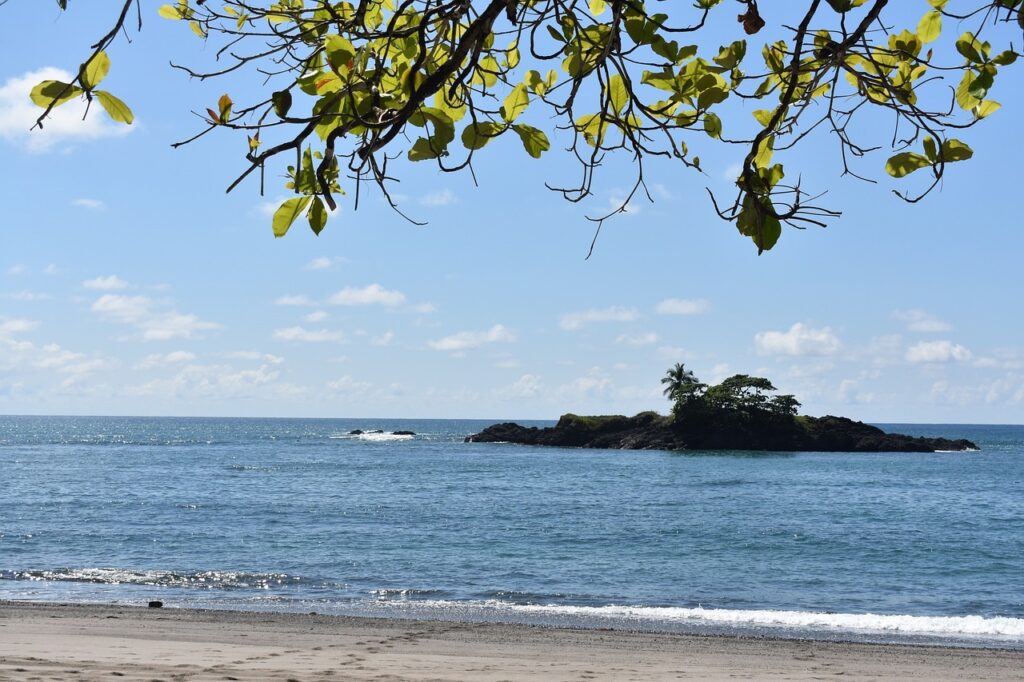 When sediment and saltwater mix in the mangroves, they produce a habitat that attracts a wide variety of marine life. While traveling, keep an eye on the ground to spot oysters, sponges, gorgeous stingrays, juvenile black-tipped sharks, and vast schools of fish hiding in among the mangrove roots. White-faced capuchin monkeys are known to hop on board in search of adventure, so don't be alarmed if you see one.
Day 7: The last day
Adding more time to your visit to Manuel Antonio National Park is possible if you have the time. Nearby opportunities include scuba diving, whale viewing, whitewater rafting, fishing, sailing, and more. If that's not the case, then Costa Rica is officially off the itinerary. The next morning, after breakfast, you will have a 3.5-hour journey to San José, where your flight will depart.
Alternative itineraries for a 7 days in Costa Rica
You can spend a week in Costa Rica doing everything from hiking around volcanoes to seeing wildlife in the cloud forest to soaking in hot springs to learning to surf to just relaxing on the beach. Whitewater rafting, ziplining, bicycle tours, and even cooking courses are just a few of the exciting and educational experiences you can look forward to on these tailor-made journeys through the country's most biodiverse regions. Here you'll find the ideal seven-day schedule for your trip to Costa Rica.
Itinerary 1: See Costa Rica's Amazing Natural Attractions
On this exciting 7 days tour itinerary, explore Costa Rica spectacular natural landscapes, including volcanoes, hot springs, cloud forests, and idyllic beaches. Check this brief itinerary:
Day 1: Arrive in San José. 
Day 2: Hike with Sloths and Birds and soak in Hot Springs.
Day 3: Try Costa Rican food and go walking around the place.
Day 4: Take a guided hike through the Cloud Forest of Monteverde.
Day 5: Travel to Manuel Antonio National Park.
Day 5: Travel to Manuel Antonio National Park .
Day 7: Depart from Costa Rica.
Hello and welcome to Costa Rica! Your journey begins in La Fortuna, where you'll stay while exploring Arenal Volcano, hiking through a sloth habitat, and relaxing in the Tabacon Hot Springs. Before heading to Monteverde, you'll also go on a nighttime rainforest walk. Before embarking on another nighttime nature walk to spot nocturnal animals in the wild, sample delicious Costa Rican coffee.
Continue on to Manuel Antonio National Park, the third and final stop on your tour itinerary of 7 days in Costa Rica. On day six, you'll have some free time to hike or relax on the beach before embarking on a guided tour of the national park with an expert guide. Before returning to San José, spot monkeys in the wild and stop at one of the country's most beautiful beaches.
Itinerary 2: Tortuguero & Puerto Viejo
This well-rounded 7 days tour itinerary in Costa Rica takes you from Tortuguero National Park to Puerto Viejo de Talamanca, a base for snorkeling and hiking in Cahuita National Park.
Day 1: Arrival San Jose.
Day 2: Tortuguero National Park.
Day 3: Tortuguero National Park – Boat Tour.
Day 4: Transfer to Puerto Viejo.
Day 5: Hiking and Snorkelling in Cahuita National Park.
Day 6: Cahuita National Park / San Jose.
Day 7: San Jose (Departure).
This 7 days tour itinerary of Costa Rica, which begins and ends in San José and includes many of the Caribbean coast's best destinations, including a famous sea turtle nesting site, is ideal for hikers and wildlife observers. Begin your journey in Tortuguero National Park by taking a boat tour of the coastline before continuing on to Puerto Viejo de Talamanca.
Cahuita National Park will be explored from Puerto Viejo. In comparison to the Pacific coast, which is the focus of many other itineraries, the Caribbean side is less crowded and has more cultural diversity. From nature hikes to pristine beaches to snorkeling excursions, this itinerary has something for everyone who wants to experience beautiful scenery in a relaxed setting.
Itinerary 3: Safaris, Arenal & the Osa Peninsula
Get off the beaten path with this weeklong luxury trip around the Osa Peninsula, which includes whale-watching and a guided hike through Corcovado National Park. Visit a sloth habitat and a wildlife rehabilitation center to round out your adventure in Arenal.
Day 1: Arriving and visiting San José.
Day 2: Transfer to Drake Bay and go on a birdwatching tour.
Day 3: Hike in Corcovado National Park.
Day 4: Take a Whale and Dolphin Tour in Drake Bay.
Day 5: Return to Arenal and relax in La Fortuna.
Day 6: See Wild Sloths and Visit a Wildlife Rehabilitation Center.
Day 7: Depart from Costa Rica.
Best Time to Spend 7 Days in Costa Rica
The optimal time to visit Costa Rica is between mid-December and April. It is the height of summer, with abundant sunshine and occasional brief showers every few days. The average temperature range in Costa Rica is 15 to 30 degrees. This is also the most expensive and busiest time to visit Costa Rica.
The rainy season lasts from the end of April to the end of November, with the wettest month being October. However, there is no need for concern as it only rains a few times a day. In addition, this time of year is significantly cheaper, and you could save up to a third of your total budget by traveling outside of the peak season.
How much does a 7-day tour itinerary to Costa Rica cost?
Costa Rica is one of the world's biodiverse countries, containing 5% of the world's biodiversity. The country is also known as the "Switzerland of Central America" due to the high prices associated with its beauty.
Costs for a 7-day Itinerary in Costa Rica
A seven-day itinerary in Costa Rica will cost between $1,400 and $2,400 USD. This includes, for instance, lunch and dinner out, lodging, admission to attractions, and a rental car. When traveling with two or more people, rental car and lodging costs are split.
Some recommendations:
Banco Nacional, BCR, Citibank, and Scotiabank are excellent ATMs in Costa Rica.
Movistar, Claro, and Kolo are the best providers of sim cards in the nation. In our experience, Movistar has the most reliable nationwide network. 5GB of storage costs 10,000 Colones. (± 15 USD)
Budget tip! Colones are the currency in Costa Rica. Using a Wise card, you can convert your local currency to Colones and save on exchange fees. This card can be used to withdraw Colones from an ATM in Costa Rica and to make purchases in the vast majority of stores. Some restaurants charge in U.S. dollars by default, but requesting to be charged in Colones will have a significant impact on the total bill.
Is It Safe to Travel to Costa Rica?
Yes, it is generally very safe for tourists to travel throughout Costa Rica. It is also the country with the lowest rate of violent crime in Central America. Like the majority of Latin American nations, it has issues with drug trafficking, poverty, and pickpockets, but most tourists will never encounter these issues.
Since 1948, Costa Rica has not had an army because its citizens believe that conflicts should be resolved through negotiation.
What to pack during a 7 days itinerary in Costa Rica?
A trip to Costa Rica offers a variety of climates. For instance, the temperature can change from 30 degrees and sunny to 18 degrees and rain within a few hours. Consequently, layering and quick-drying clothing are required.
Layers of clothing are necessary so that you can add or remove items as the temperature fluctuates.
Quick-drying clothing – It is almost certain that you will experience some rain during your trip to Costa Rica. Because of the humidity, it will take a long time for clothing to dry. Therefore, you should wear clothing made of quick-drying fabrics.
Microfiber towel – Similar to quick-dry clothing, microfiber towels are extremely useful because they dry significantly faster and are incredibly lightweight.
Universal travel plug – Ensure that your electronic devices can be charged in Costa Rica by bringing a universal plug.
Waterproof backpack – Keep your valuables dry with a waterproof backpack or the rain cover included with your bag.
The final rainwear item is a waterproof jacket or raincoat. Some of them can also be folded into an easily transportable package.
Fortunately, there are also numerous sunny days. Bring a hat or cap to protect yourself from the sun on the hikes you will be taking.
Long socks and pants – For certain hikes, nighttime strolls, and outdoor evenings, you may also wish to bring long socks and pants to cover your legs and prevent mosquito bites.
Excellent footwear – Good walking shoes/sneakers/sandals are required. Muddy or rocky trails can make hiking somewhat difficult. There is no reason to wear flip-flops here.
Earplugs – Your nights may be disturbed by animal sounds, music, or the sound of the waves when camping in Costa Rica. Earplugs ensure a good night's sleep.
Camera – Capture memories of your week in Costa Rica with a watertight camera, such as a GoPro, or invest in protective equipment for your camera so that it won't be affected by an unexpected downpour.
Power bank – Having a power bank to recharge your phone is beneficial for long hikes, power outages, and moments in the jungle. (Get one here)