The Amalfi Coast is a well-known Italian region famed for its stunning beaches. With its crystal-clear waters, beautiful beaches, and spectacular cliffside panoramas, the coastline offers a wealth of tempting tourist destinations. This article provides a comprehensive overview of the area's top 10 must-see beaches, which are certain to inspire feelings of freedom and possibility in every traveler eager to explore this Mediterranean paradise.
The list considers numerous variables while judging the appeal of each beach, including accessibility, facilities, and environment. Additionally, information on how to get there, what activities can be enjoyed at each location, and some recommended accommodation options will be provided to ensure visitors have everything they need for the perfect Amalfi Coast experience.
Exploring Marina Di Praia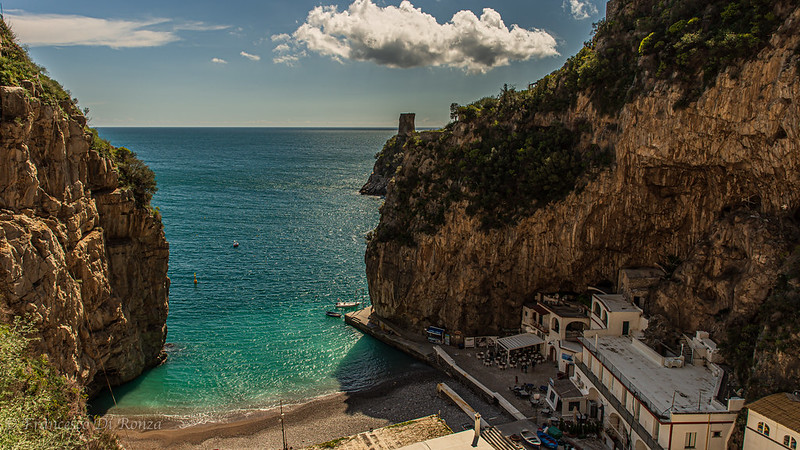 Marina di Praia is a beautiful beach on the Amalfi Coast known for its crystal-clear waters and peaceful ambiance. Marina di Praia provides something for everyone if you want to try a range of activities during your vacation. Scuba diving in these pristine waters is a great chance to get up close and personal with marine life, or tourists may take advantage of the cliff-jumping possibilities available across the coastline. Swimming safety should always be considered while visiting any beach, and there are multiple lifeguard towers at Marina di Praia where swimmers may seek help if necessary.
The region around Marina di Praia also offers a variety of exciting outdoor activities, such as coastal paths that give good hiking routes with beautiful views of both land and sea. Paddleboarding is another favorite sport among tourists to this area, offering a fresh viewpoint from which to enjoy this stunning environment. Other water sports activities offered include jet skiing and windsurfing, which are ideal for adrenaline seekers looking to get away from it all!
Visitors to Marina di Praia will find much to do, whether it's appreciating nature's grandeur from atop a rocky outcrop, indulging in some wonderful seafood cuisine after a day of exploring the coastline, or just relaxing by the beach. This lovely place really has something unique that draws visitors back again and again.
Read also: Is Amalfi Coast Safe? Useful Tips
Discovering Spiaggia Del Fornillo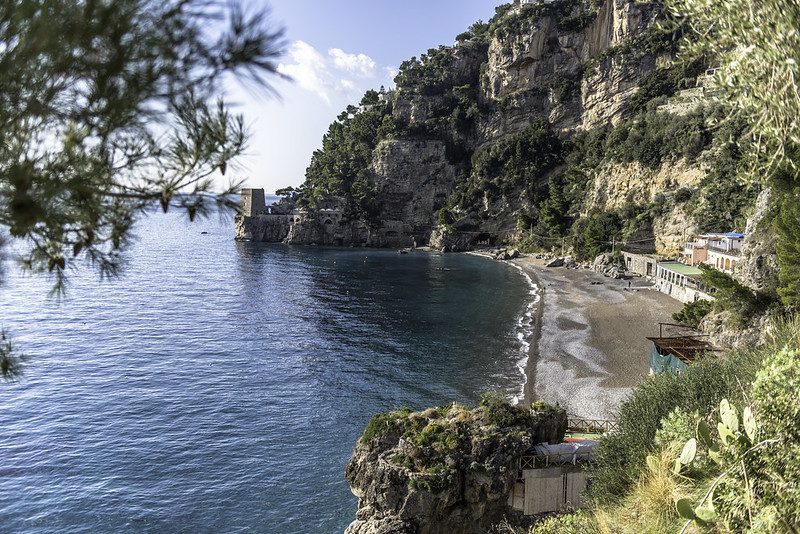 Spiaggia del Fornillo is a beautiful beach on the Amalfi Coast. With its calm blue seas and white dunes, this spot allows guests to unwind in heaven. It is divided into two regions for exploring amenities: one closer to Praiano and one closer to Positano. Discovering wildlife such as fish and birds is possible at Spiaggia del Fornillo in addition to discovering activities such as swimming, snorkeling, diving, kayaking, or simply lounging on the shoreline.
Both Marina di Praia and Spiaggia del Fornillo have spectacular views: one has towering cliffs that tower above the sea, while the other has rich flora that runs down steep slopes. The scenic vistas make it possible to appreciate things like little boats floating over the horizon and brilliant flowers blossoming amid rocky terrains. As night falls, these sights become even more enticing as a blanket of stars shimmers in the sky above.
A visit to either beach guarantees wonderful experiences filled with tranquillity and peace; yet, Spiaggia del Fornillo stands out owing to its stunning vistas that will undoubtedly make a lasting impact on the mind of any tourist. Whether it's admiring secret coves or savoring nature's beauty during sunsets, there's something unique about this location that draws tourists from all over the globe year after year – as they are fascinated by the Mediterranean Sea's appeal.
Read also: Top Things to Do on the Amalfi Coast: Explore Italy
Check out this activity:
A Closer Look At Baia Del Capo Di Conca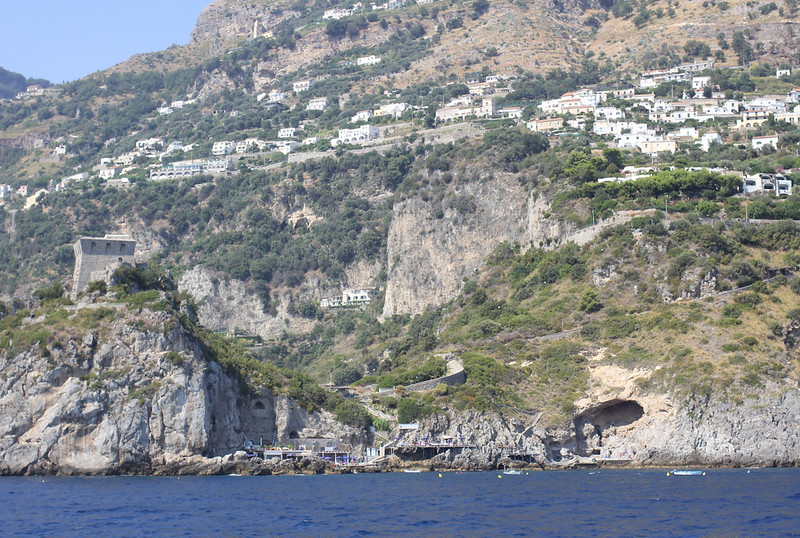 Baia del Capo di Conca is a lovely beach on the Amalfi Coast. It boasts a distinct ambiance and breathtaking vistas, making it one of Italy's most popular beaches. The white pebbled coastline provides for lovely walks along the edge of the crystal-clear lake. Popular activities include watching the sunset, exploring the caverns, doing scuba diving, snorkeling at night, and taking boat cruises around the bay.
This lovely beach offers guests lots to see and do while they're there. Scuba divers will appreciate exploring the various underwater tunnels and caverns teeming with colorful fish and other marine life. Snorkelers can also enjoy a nighttime adventure by taking advantage of the excellent visibility provided by moonlight or starlight. Those who prefer to remain above ground may take boat trips that round the whole region, providing a wealth of information about this stunning stretch of coastline.
When visiting Baia del Capo di Conca, visitors should take their time; it has something for everyone, from sunbathing and swimming during the day to exploration and adventure after dark. With so much to see and do here, visitors may find themselves wishing to return soon!
Check out this offer:
Touring The Delightful Baia Della Gaiola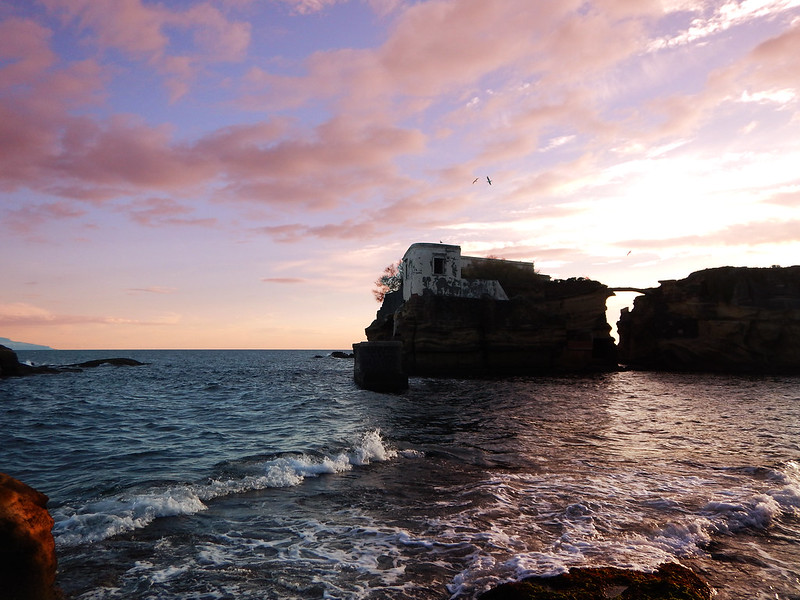 The stunning Baia della Gaiola is situated just north of the picturesque Amalfi Coast, making it an ideal spot for exploring and admiring wildlife. Visitors will be captivated by the crystal-clear waters, lush green vegetation, and abundant marine life. The area offers a variety of activities to suit all interests – from visiting attractions to examining geology or even observing local culture.
Adventure seekers can explore the coastline in search of rare birds such as bald eagles, ospreys, herons, cormorants, and oystercatchers. Swimmers can take advantage of its warm shallow waters perfect for snorkeling and diving among colorful fish like grouper and sea bass that inhabit the bay's numerous coral reefs. For those who prefer dry land adventures, there are plenty of trails for hiking on Mount San Costanzo with breathtaking views across the gulfs at every turn.
It would not be complete without mentioning the many archaeological sites located around the island which date back over 5 millennia. These ancient ruins tell stories about past civilizations that lived here long ago – remnants that remain preserved due to their remote location away from modernity's reach. With so much beauty and history, it is easy to understand why this beach has become one of Italy's top destinations on the Amalfi Coast.
Read also: 16 Amazing Facts about the Amalfi Coast of Italy
Exquisite Le Sirene Beach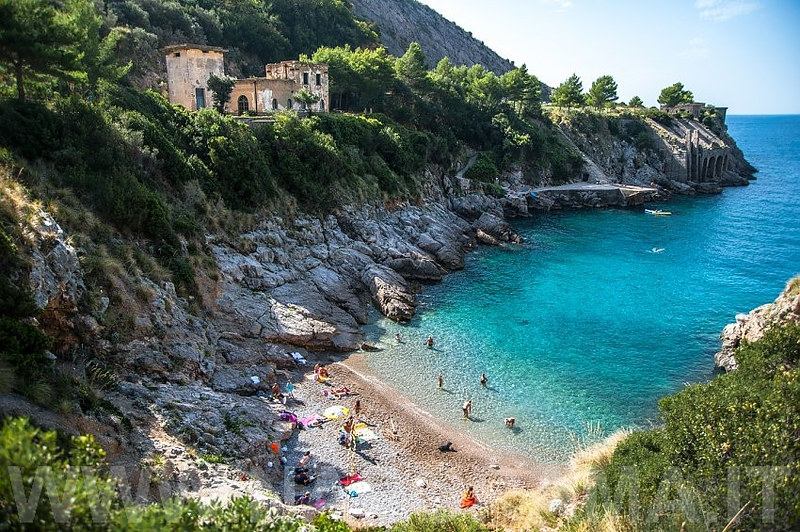 Le Sirene Beach, located on the Amalfi Coast of Italy, is a picturesque paradise that can only be described as enchanting. The scenery here features immaculate white sands surrounded by breathtaking cliffs and crystal clear waters. Visitors to this beach have plenty to do from indulging in sunbathing fun to taking boat trips around its captivating views.
The main attraction at Le Sirene Beach is its activities:
On Land
Exploring nearby hiking trails
Enjoying picnic lunches on the beach
In Water
Taking part in paddle board excursions
Relaxing on water floats for an afternoon nap
This beach offers something for everyone; whether you're looking for adventure or relaxation, there's no better place than Le Sirene Beach. Its inviting atmosphere makes it easy to escape your worries while having a truly memorable experience with friends or family. With all that said, it's safe to say why so many people flock here year after year – Le Sirene Beach promises unforgettable memories!
Enjoying The Charm Of La Marinella Beach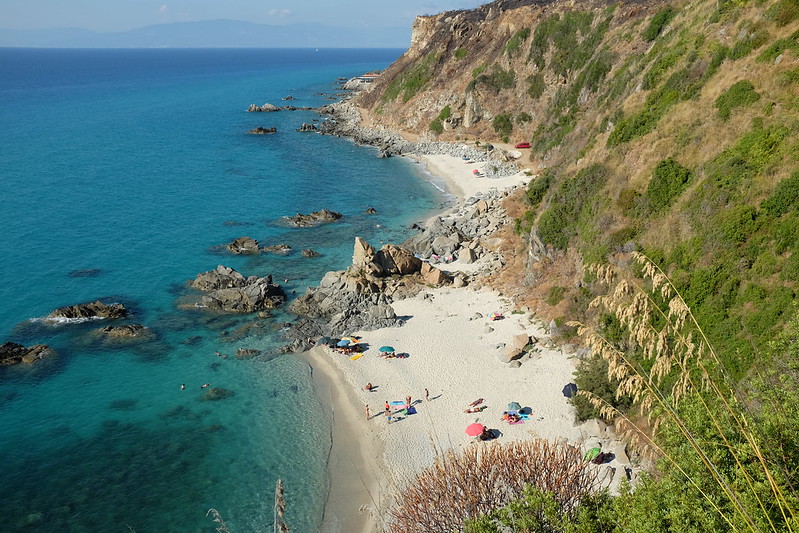 Situated on the Amalfi Coast, La Marinella Beach stands out for its charm and beauty. It is a popular destination with both locals and tourists alike who come to explore local cuisine, enjoy the view, admire the culture, swim in the sea, and discover local flora.
| Activity | Time Needed | Cost |
| --- | --- | --- |
| Exploring Local Cuisine | 1-2 hours | N/A |
| Enjoying The View | 1 hour | Free |
| Admiring The Culture | 30 minutes | Free |
| Swimming In The Sea | 3-4 hours | Free |
| Discovering Local Flora | 2-3 hours | Free |
Tourists may spend their time on this beach doing things like sampling local cuisine or taking in the view of adjacent islands from one of the numerous eateries located along the beachfront. People interested in cultural activities might pay a visit to Punta Campanella Natural Reserve, which is situated near La Marinella. Visitors will be able to examine and learn about many plant species endemic to this area. Swimmers are also welcome here, where they may cool off in crystal blue waters while learning about the unusual marine species that inhabit these depths. Lastly, ardent hikers will discover several possibilities to explore nature routes running through groves of trees and flowers with stunning views of the Mediterranean countryside. With so much to offer, it's no surprise that La Marinella is one of the most popular beaches among Amalfi Coast visitors.
Read also: 15 Things to Do in Positano: Your Ultimate Guide
Visiting San Francesco Beach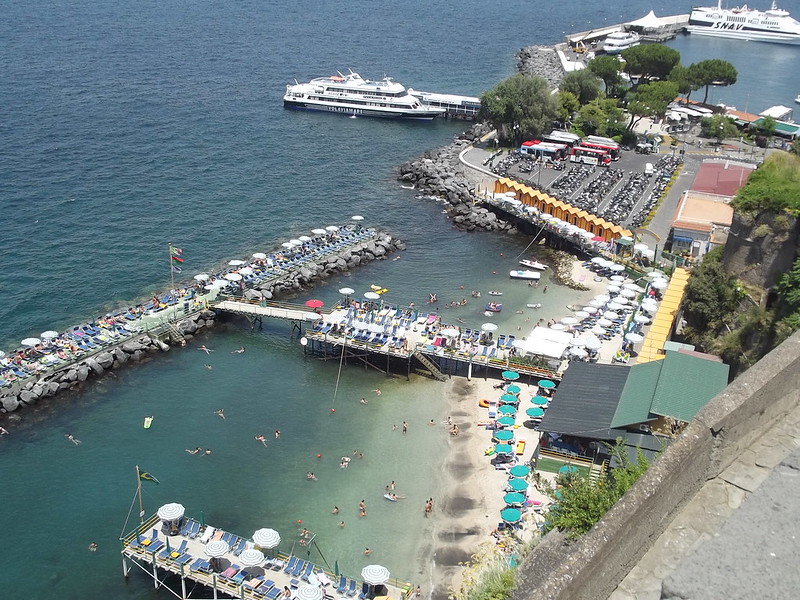 San Francesco Beach is one of the top 10 beaches on the Amalfi Coast. It allows tourists to find hidden jewels and experience local attractions, such as experiencing its distinct culture, and enjoying wonderful food. Its magnificent white sand beach is ideal for swimming in crystal clear seas as you explore the lovely coastline.
The surrounding village of Atrani has a variety of stores and restaurants to enjoy during your stay. You may purchase souvenirs or explore the centuries-old buildings. There are also many outstanding seafood restaurants serving traditional cuisine from this area, providing travelers with a true experience of Italy's famed culinary delicacies.
Surrounding coves provide calm locations for sunbathing and relaxing with friends while taking in the spectacular views of the Mediterranean Sea. Being adjacent to other famous locations such as Ravello, Positano, and Capri allows travelers to expand their discovery of the area's colorful history and culture. San Francesco Beach enables tourists to enjoy all this coastal paradise has to offer without sacrificing quality or service.
Relaxing At Arienzo Beach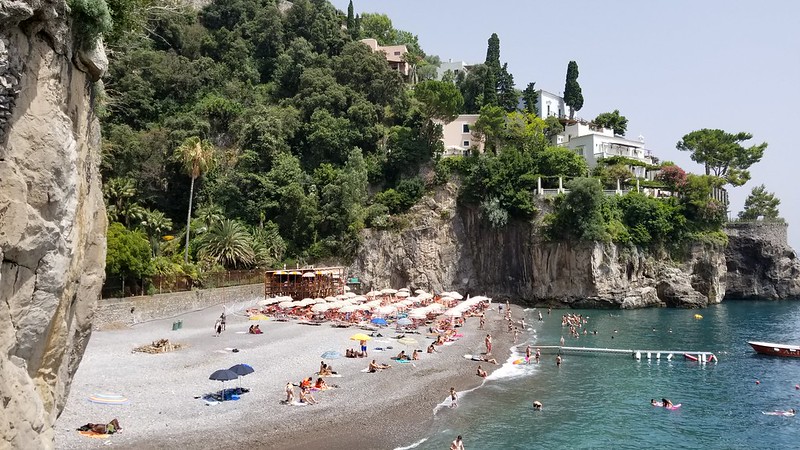 The Arienzo Beach is situated in the scenic town of Amalfi, Italy. Its pleasant mood and tranquil surroundings make it an ideal location for a leisurely day at the beach. The beach provides breathtaking vistas as far as the eye can reach, matched with clear seas that provide lots of possibilities to cool down on hot days. Visitors are greeted with stunning pictures with hues ranging from blues and purples to oranges and reds during romantic sunsets. This beach has something for everyone, whether you wish to relax or just enjoy nature's splendor. Tourists have been known to spend hours here just enjoying their time away from the rush and bustle of regular life.
Exploring The Beauty Of Gavitella Beach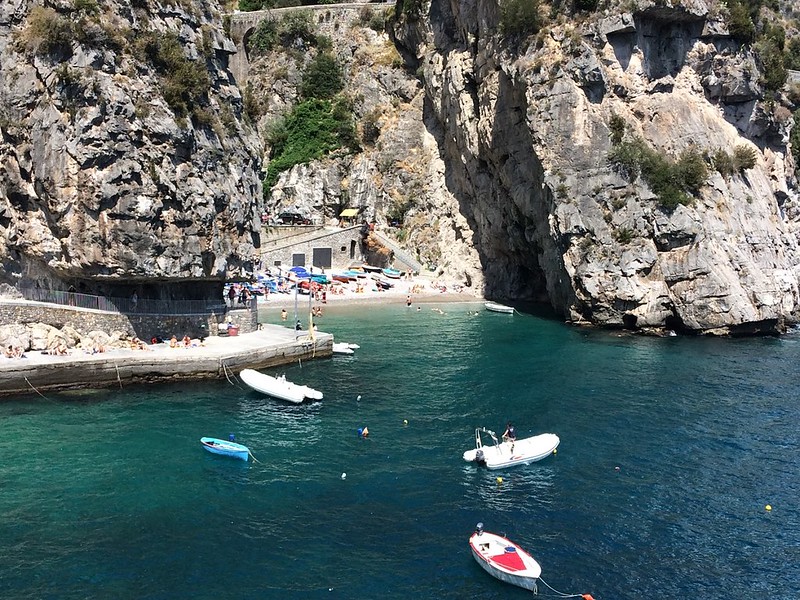 Gavitella Beach is a hidden treasure on the Amalfi Coast that demands to be discovered. Exploring its past uncovers tales of generations of fishermen and their families who have lived here, revealing activities like sailing, swimming, snorkeling, and just enjoying the sun. Nature abounds in the little coves where you may watch the sunset over the beautiful blue ocean. The timeless experience of visiting this gorgeous beach is completed by appreciating local culture with its age-old customs that are being practiced today. Gavitella Beach, with its pristine vistas and lovely ambiance, is guaranteed to bring out your inner adventurer and create memories to last a lifetime.
Read also: 10 Best Towns to Visit on Italy's Amalfi Coast
Admiring The Views Of Li Galli Islands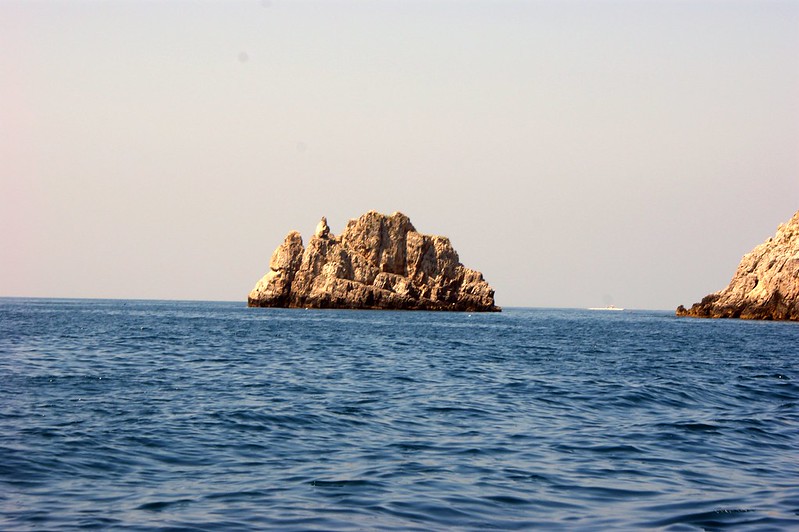 The Li Galli Islands, located off the Amalfi Coast of Italy, are breathtaking. It is a calm retreat with breathtaking views that is great for people looking to escape the hustle and bustle of daily life.
Visitors may experience the grandeur of nature's awe-inspiring workmanship as the sun sets on the horizon at dusk. This area's isolation enables people to unwind in peace while watching animals frolic in their natural environment. There are lots of swimming coves and picnicking corners in the Mediterranean environment for those searching for something more active.
A visit to the Li Galli Islands guarantees guests an incredible experience unlike any other, packed with unique experiences that will last long after they leave paradise. Visitors may relish every minute spent along Italy's breathtaking Amalfi Coast, from watching sunsets to lounging on its quiet coastlines, finding secret swimming coves, or exploring hidden picnic spots.